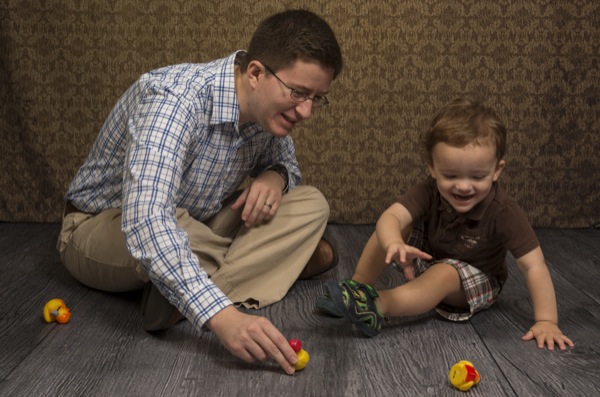 Jan. 23: New parent workshop
UD alumnus, author to discuss child development activities
3:37 p.m., Jan. 9, 2014--Babies have a lot to teach us, according to experts. We just need to learn how to listen to them. After the birth of his first child, Shaun Gallagher, a 2002 University of Delaware alumnus, decided to help parents learn about child development by helping them conduct "experiments" on their children. 
Gallagher wrote a book titled Experimenting With Babies: 50 Amazing Science Projects You Can Perform on Your Kid. (See the article Dad Science in the recent UD Messenger.)
June 5: Blue Hen 5K
University of Delaware graduates planning to attend Alumni Weekend are encouraged to register for the annual Blue Hen 5K walk and run, which will be held Sunday morning, June 5.
June 6-9: Food and culture series
The 20th annual June Lecture Series at the Osher Lifelong Learning Institute at UD in Wilmington will be held June 6-9. Titled 'June a la Carte,' this year's program focuses on great political documents, feminism, world politics and a Newark cuisine sampler.
On Thursday, Jan. 23, from 6:30-7:30 p.m., parents and caregivers of infants can join Gallagher at UD's Laboratory Preschool to learn about the fun and educational activities they can undertake with their children. He will demonstrate how parents can use ordinary toys and household items as props to test their child's interactions and then explain the significance of the results. 
"With the book's help, parents can experience the thrill of scientific research from the comfort of their own living-room laboratory and find out what happens when the empirical meets the adorable," says Gallagher. 
They can continue to test hypotheses well into their child's toddler years.
"While the marketplace urges parents to buy all manner of things to make their babies 'smart,' Gallagher's book offers parents a view based in science on how much babies really know and figure out on their own. Parents will have fun with this book and gain new respect and awe for their babies' amazing capabilities," said Roberta Michnick Golinkoff, Unidel H. Rodney Sharp Chair in UD's School of Education. 
Attendees are invited to bring their infants and toddlers. Child care for older children will also be available for $5 per child. RSVP to the Laboratory Preschool by Jan. 17 at labpreschool@udel.edu or by calling 302-831-8556.
For more information on Gallagher's book, visit the website.
About the Laboratory Preschool
The Laboratory Preschool is part of the Department of Human Development and Family Studies in the College of Education and Human Development.
State licensed and nationally accredited by the National Association for the Education of Young Children, the Laboratory Preschool is an inclusive early education setting serving over 60 children ages 2 to 6 and their families. It offers part-day programs for 2 to 4-year-olds, full-day programs for 4 to 6-year-olds, and summer camp programs for 5 to 13-year-olds.
The Laboratory Preschool is located on UD's Children's Campus at 459 Wyoming Road in Newark. 
Article by Alison Burris
Photo by Kathy F. Atkinson