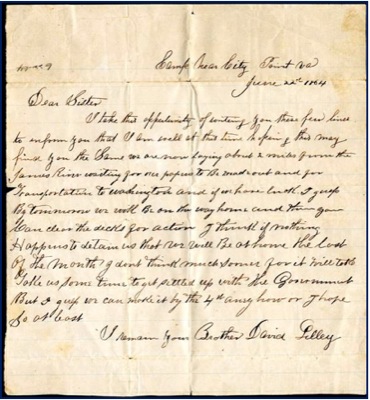 Through June 8: '1864: Year of Destiny'
University Library sets '1864: Year of Destiny' in Lincoln Exhibit Case
9:02 a.m., Feb. 12, 2014--The University of Delaware Library has announced that the exhibition "1864: Year of Destiny" is on view through Sunday, June 8, in the Special Collections Lincoln Exhibit Case located on the second floor of the Morris Library. 
The year 1864 was a pivotal one in the American Civil War and the presidency of Abraham Lincoln. The Union Army had achieved decisive victories in the July 1863 battles of Gettysburg and Vicksburg and in March 1864, Lincoln appointed Ulysses S. Grant commander in chief of all Union armies. 
June 5: Blue Hen 5K
University of Delaware graduates planning to attend Alumni Weekend are encouraged to register for the annual Blue Hen 5K walk and run, which will be held Sunday morning, June 5.
June 6-9: Food and culture series
The 20th annual June Lecture Series at the Osher Lifelong Learning Institute at UD in Wilmington will be held June 6-9. Titled 'June a la Carte,' this year's program focuses on great political documents, feminism, world politics and a Newark cuisine sampler.
Under the leadership of Grant, Union forces won battle after battle, culminating in Gen. William Tecumseh Sherman's Savannah campaign, famously known as Sherman's march to the sea. 
Perhaps the most critical event of 1864 was the presidential election, which pitted Lincoln against his former Army of the Potomac commander George McClellan.
McClellan, the Democrat candidate, ran on a platform of asking for immediate peace with the states in rebellion and, in essence, granting them their independence from the Union. Had McClellan and the Democrats prevailed in the election there would have likely been two separate nations with no guarantee of reconciliation between them.
The curator is Timothy Murray, head of the Special Collections Department of the University of Delaware Library. An online version of the exhibition is available.
Later in 2014, a second Lincoln-related exhibition entitled "The Union at the Crossroads: The Presidential Election of 1864," will focus on one of the most critical elections in American history. 
"The Union at the Crossroads" will be on view from Tuesday, July 8, through Friday, Dec. 19, in the Special Collections Lincoln Exhibit Case.
Both exhibitions will feature a variety of materials drawn from the extensive holdings on Abraham Lincoln and the American Civil War in Special Collections, most of which were the gift of the Lincoln Club of Delaware.
About Special Collections
Holdings of Special Collections of the University of Delaware Library include books, manuscripts, maps, prints, photographs, broadsides, periodicals, pamphlets, ephemera and realia from the 15th to the 21st century.
The collections complement the library's general collections with particular strengths in the subject areas of the arts; English, Irish and American literature; history and Delawareana; horticulture; and history of science and technology.