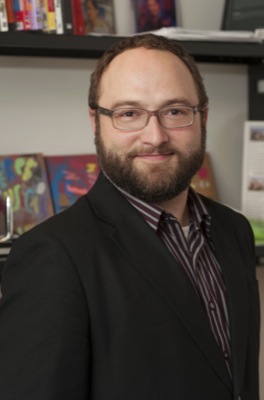 Feb. 25: UDLAPS Scholar
Library series features talk on 'Cultural Code: Video Games and Latin America'
8:38 a.m., Feb. 17, 2014--Phillip Penix-Tadsen, assistant professor of Spanish, will present "Cultural Code: Video Games and Latin America" at noon, Tuesday, Feb. 25, in the Class of 1941 Lecture Room in the Morris Library as part of the University of Delaware Library Assembly of Professional Staff (UDLAPS) Scholar in the Library series.
The brown-bag luncheon program is open to the public. Light refreshments will be available.
June 5: Blue Hen 5K
University of Delaware graduates planning to attend Alumni Weekend are encouraged to register for the annual Blue Hen 5K walk and run, which will be held Sunday morning, June 5.
June 6-9: Food and culture series
The 20th annual June Lecture Series at the Osher Lifelong Learning Institute at UD in Wilmington will be held June 6-9. Titled 'June a la Carte,' this year's program focuses on great political documents, feminism, world politics and a Newark cuisine sampler.
Penix-Tadsen will speak about his book-in-progress, the working title of which is the title of the talk. He also will discuss his teaching and research on the subject of video games and Latin America.
Bringing together the critical vocabularies of game studies and Latin American cultural studies, Cultural Code will offer the first synthetic theorization of the relationship between video games and culture, based on analysis of both in-game cultural representation and the real-life economic, political and societal effects of games.
Surveying an array of examples ranging from experimental web games made in Latin America to mainstream blockbusters that appropriate the region's places and people and portray them for a growing global audience, the book implements a two-pronged approach to analyzing the uses that culture and games have for one another.
Part one of the book comprises three chapters that assess how culture uses games, focusing on each of three social, political or economic "uses" -- play, persuasion and potential.
The second part then explores how games use culture, dedicating a chapter each to semiotics, space and simulation.
This multivalent approach offers a clear and thorough analysis of the intricate relationship between games and culture that moves beyond traditional assumptions to directly examine the mechanisms at play when cultural meaning is created in and around video games.