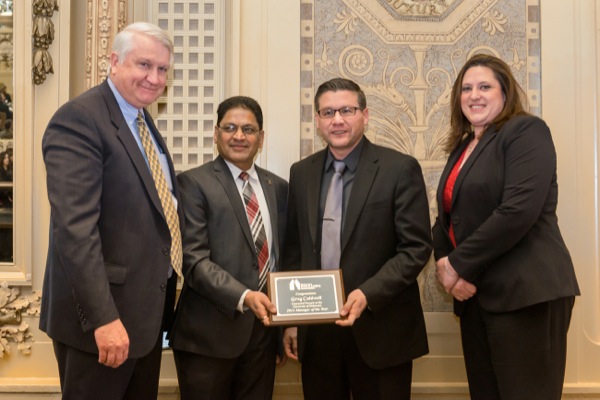 Hotel award
Courtyard's Caldwell named state manager of the year
12:22 p.m., Feb. 14, 2014--Greg Caldwell, chief engineer and director of transportation at Marriott's Courtyard Newark at the University of Delaware, has been named manager of the year for 2013 by the Delaware Hotel and Lodging Association.
Caldwell was honored during the association's annual STARS of the Industry dinner held at the Hotel du Pont in Wilmington. The event recognizes valued associates and business partners of the industry, as well as awards scholarships to deserving hospitality management students at the state's colleges and universities. 
National Medal of Science
President Barack Obama recently presented the National Medal of Science to University of Delaware alumnus Rakesh Jain.
Warren Award
Rosalind Johnson, assistant dean for student success in the NUCLEUS Program in UD's College of Arts and Sciences, was presented the John Warren Excellence in Leadership and Service Award during a May 26 ceremony.
The manager of the year award is presented to a hotel employee who serves in a management capacity and who "must show leadership in their department and have a strong commitment to customer service."
In the nomination, it was said of Caldwell, "Since joining our team six years ago, this leader has exemplified professionalism and dedication. Starting out in the role of transportation supervisor, his diverse background gave him the skills and management ability to seamlessly encompass the role of customer care manager before finally transitioning into his current role of chief engineer.
"His commitment to the success of our hotel can be seen in whatever project he is assigned. Whether working on a piece of equipment in the kitchen, re-routing the banquet hallway or ensuring a guestroom is ready to sell, he leaves no stone unturned. His eye for detail is meticulous. The hotel vans are in tip-top shape, with nary a carpet fiber out of place or a fingerprint on a window.
"He has been through two major renovation projects, which shows that he is the epitome of patience. He has truly extended himself to the hotel's special needs employees. He is proficient in ASL (American Sign Language). On top of that, he is always courteous and friendly, always smiling, and always will to lend a helping hand. Whether it is answering the phone, checking a guest in or out, or jumping in the shuttle to pick someone up at the train station, he never hesitates. He has even become the care-taker of the 20-plus fish in our pond."