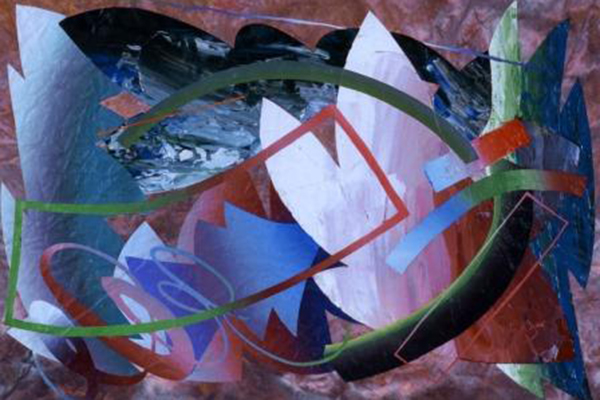 Feb. 12-June 28: 'FreshPAINT'
Mechanical Hall hosts exhibition of works by African American artists
9:18 a.m., Feb. 6, 2014--A new exhibition titled "FreshPAINT: African American Art at UD" will be on view Feb.12-June 28 at the University of Delaware's Mechanical Hall Gallery.
With a focus on painting, the University Museums exhibition showcases works from the Paul R. Jones Collection of African American art alongside recent acquisitions. Using the words "fresh" and "paint" playfully and reflexively, the selection calls attention to methods and materials as well as content and style. 
June 5: Blue Hen 5K
University of Delaware graduates planning to attend Alumni Weekend are encouraged to register for the annual Blue Hen 5K walk and run, which will be held Sunday morning, June 5.
June 6-9: Food and culture series
The 20th annual June Lecture Series at the Osher Lifelong Learning Institute at UD in Wilmington will be held June 6-9. Titled 'June a la Carte,' this year's program focuses on great political documents, feminism, world politics and a Newark cuisine sampler.
The most recent bequests on view are two streetscapes by renowned Delaware artist Edward L. Loper Sr. (1916-2011).
Many of the works on view date to the mid- to late-20th century, reflecting the collecting history, habits and aesthetics of the Atlanta collector Paul R. Jones (1928-2010). Since its donation to UD in 2001 the Jones gift has served as a point of departure for a growing collection of art by artists from America and the African diaspora.
Autumn in Georgia (c. 1931) by Hale Aspacio Woodruff and Snowbanks (1959) by Felrath Hines, are among the earliest works on view and, with the two Loper paintings, set an important tone for the exhibition as a whole. 
Woodruff (1900-1980), a painter, muralist and printmaker, was a long-term member of the Atlanta University – now Clark Atlanta University – faculty and responsible for establishing that university's art program. Autumn in Georgia exemplifies the American regionalist style he favored before moving more decisively towards abstraction. 
Hines (1913-1993) was highly regarded in the field of art conservation as a paintings conservator. Snowbanks reveals Hines' early interest in brushy lyricism and expressionism, a mode later supplanted by hard-edge, geometric abstraction.
Committed to abstraction from the late 1950s onward, Woodruff and Hines joined fellow artists in the collective known as Spiral in 1963. Discussions among the artists centered on aesthetic, social and cultural concerns, including debates over the social responsibility of the artist and artistic content.
These conversations continue today, and "FreshPAINT" bears witness to the multitudinous ways in which artists have responded. Jack Whitten, Bill Hutson, Frank Bowling, James Little and others represented in the exhibition favor form as content; their works have made and continue to make significant contributions to abstract painting in American art. 
Balancing these strengths in abstraction is a selection of paintings in which the figure dominates, as in Margaret T. Burroughs's Three Souls (1964) and Amos Ashanti Johnson's Muhammad Ali (1978). 
Abstraction and figuration merge brilliantly in Floyd Coleman's African Sculpture Revisited (1973) and Peter Williams' Absolutely Hilarious (1997). A professor in UD's Department of Art, Williams' painting takes center stage in the exhibition as it seems to brilliantly digest and re-present the delightful miscellany of modes on view in Mechanical Hall Gallery. A synthesized lexicon that includes the comic, the surreal, and the abstract, as well as portraiture and pastiche, Absolutely Hilarious brings painterly sense to the assorted paintings.
While celebrating the creative energies of many artists, "FreshPAINT" brings to the foreground important questions relative to gender and race in the history of painting and collecting in America. Shifting the perspective toward African American painting in the permanent collection brings new attention to representational weaknesses, most particularly a gender imbalance. Black women artists are far better represented through other media in UD's permanent collection.
"FreshPAINT" was co-curated by Robert Straight, professor of painting in the Department of Art, and Julie L. McGee, University Museums curator of African American art.
Several events will be held in conjunction with the exhibition:
• Monday, Feb. 24, 12:30-1:15 p.m., Mechanical Hall Gallery, a Perspectives curatorial conversation featuring co-curators McGee and Straight. The talk is being held in conjunction with the Department of Black American Studies speaker series. Coffee and cider will be served from noon-2 p.m.
• Friday and Saturday, March 14-15, 7:30 p.m., Mitchell Hall. The third annual Dance Minor Concert will feature an evening of diverse choreographic works by guest artists and faculty members. For details, contact Kimberly Schroeder at kschroed@udel.edu or 302-821-3311.
• Tuesday, March 18, 5-6:30 p.m., Paul R. Jones Annual Lecture, Gore Recital Hall of the Roselle Center for the Arts. The lecture will feature artist Jonathan Green, whose 1998 series of paintings about the life of David Drake, or "Dave the Potter," served as inspiration for a collaboration that produced the research, poetry, choreography and composing that informs the choreographic suite All My Relations.
• Thursday, April 17, 6 p.m., Artist's Talk, 116 Gore Hall. The speaker will be Robyn Phillips-Pendleton, associate professor of art.