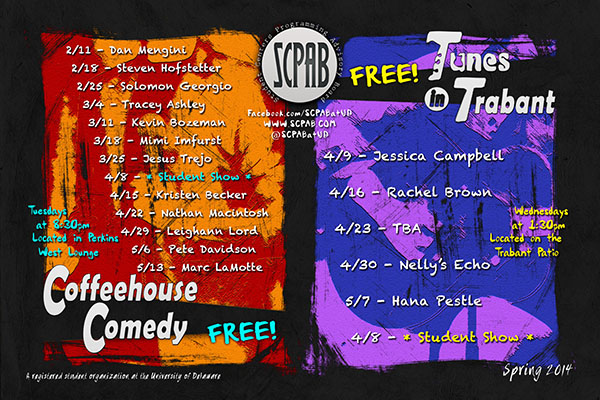 Feb. 11-May 13: Coffeehouse Comedy Series
SCPAB announces spring Coffeehouse Comedy Series schedule
12:56 p.m., Feb. 10, 2014--The Student Centers Programming Advisory Board (SCPAB) will present the Coffeehouse Comedy Series to be held every Tuesday evening at the University of Delaware this spring.
Different comedians will perform each week at 8:30 p.m. in the West Lounge of the Perkins Student Center. Students will be provided with a free SCPAB Coffeehouse mug, coffee, and tea. 
June 5: Blue Hen 5K
University of Delaware graduates planning to attend Alumni Weekend are encouraged to register for the annual Blue Hen 5K walk and run, which will be held Sunday morning, June 5.
June 6-9: Food and culture series
The 20th annual June Lecture Series at the Osher Lifelong Learning Institute at UD in Wilmington will be held June 6-9. Titled 'June a la Carte,' this year's program focuses on great political documents, feminism, world politics and a Newark cuisine sampler.
The events are free of charge and do not require tickets.
The schedule for the spring Coffeehouse Series is as follows:
Feb. 11: Dan Mengini
Feb. 18: Steven Hofstetter
Feb. 25: Solomon Georgio
Mar. 4: Tracey Ashley
Mar. 11: Kevin Bozeman
Mar. 18: Mimi Imfurst
Mar. 25: Jesus Trejo
Apr. 8: Student Show
Apr. 15: Kristen Becker
Apr. 22: Nathan Macintosh
Apr. 29: Leighann Lord
May 6: Pete Davidson
May 13: Marc LaMotte
For more information, visit the SCPAB website or follow SCPAB at UD on Facebook and Twitter.
The Student Centers Programming Advisory Board is a registered student organization at the University of Delaware.