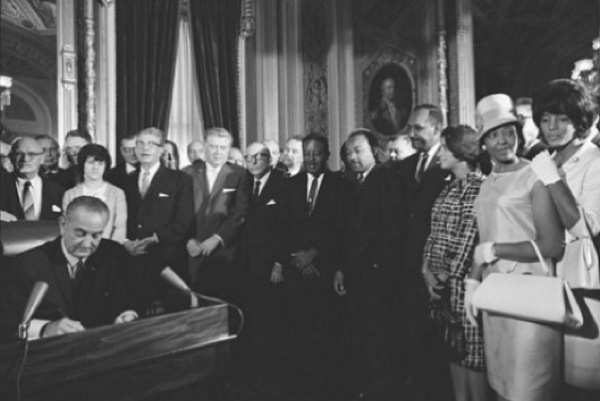 Feb. 4-July 11: 'Civil Rights Act'
University Library hosts exhibition '1964 Civil Rights Act: 50th Anniversary'
8:39 a.m., Feb. 3, 2014--The University of Delaware Library will mark the 50th anniversary of the 1964 Civil Rights Act with an exhibition featuring books, manuscripts, videos, photographs and other materials.
"The 1964 Civil Rights Act: 50th Anniversary" will be on display in the exhibition cases located in the Information Room on the first floor of the Morris Library from Tuesday, Feb. 4, through Friday, July 11. Effective June 9, the exhibition will move from the Information Room into the Reading Room, which is on the first floor of the Morris Library, due to construction.
June 5: Blue Hen 5K
University of Delaware graduates planning to attend Alumni Weekend are encouraged to register for the annual Blue Hen 5K walk and run, which will be held Sunday morning, June 5.
June 6-9: Food and culture series
The 20th annual June Lecture Series at the Osher Lifelong Learning Institute at UD in Wilmington will be held June 6-9. Titled 'June a la Carte,' this year's program focuses on great political documents, feminism, world politics and a Newark cuisine sampler.
When President John F. Kennedy introduced a civil rights bill to Congress in June 1963, no meaningful legislation of this sort had been passed in the United States since the Reconstruction period, right after the Civil War. 
In the intervening years Jim Crow laws had established practices of racial discrimination and segregation in the American South, and such practices were found in the North as well. After Kennedy's death, President Lyndon B. Johnson pushed for the passage of Kennedy's civil rights bill, over intense opposition from Southern Democrats in the House and Senate.
After overcoming a lengthy Senate filibuster, the bill was signed into law by Johnson on July 2, 1964.  It outlawed discrimination on the basis of race, color, sex, religion or national origin in public accommodations, education, employment and housing. It also addressed discrimination in voting, helping lay the basis for a major voting rights act the following year. 
While it did not legally end all discrimination, the act opened the door to broader civil rights for African Americans and others. It is still considered a key element of the numerous social reforms that took place in the United States during the 1960s.
The curator of the exhibition is Curtis Small, assistant librarian, Special Collections Department.
An online version of the exhibition will soon be available.