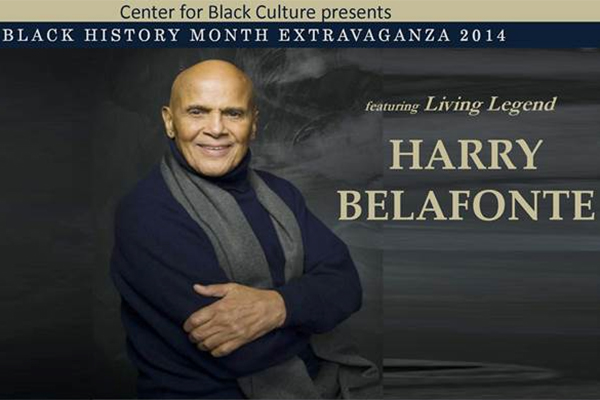 Feb. 27: Harry Belafonte sold out
Famed entertainer Harry Belafonte to speak at UD's Trabant University Center
(Editor's note: As of Monday morning, Feb. 24, the Harry Belafonte presentation is sold out.)
8:24 a.m., Feb. 10, 2014--Harry Belafonte, the groundbreaking entertainer and social activist, will be featured in a Black History Month Extravaganza presentation at 7 p.m., Thursday, Feb. 27, in the Multipurpose Rooms of the University of Delaware's Trabant University Center.
Tickets for event are free with a valid University of Delaware ID, with a limit of one per person, and $5 for guests and the general public.
June 5: Blue Hen 5K
University of Delaware graduates planning to attend Alumni Weekend are encouraged to register for the annual Blue Hen 5K walk and run, which will be held Sunday morning, June 5.
June 6-9: Food and culture series
The 20th annual June Lecture Series at the Osher Lifelong Learning Institute at UD in Wilmington will be held June 6-9. Titled 'June a la Carte,' this year's program focuses on great political documents, feminism, world politics and a Newark cuisine sampler.
Tickets will be available beginning Wednesday, Feb. 12, at the University box offices for UD students, faculty and staff.
General public tickets will be available for purchase beginning Wednesday, Feb. 19, at UD box offices and through Ticketmaster.
Belafonte, the first single artist to sell more than one million records for his album Calypso and winner of Emmy, Grammy and Tony awards, had an abiding friendship with the Rev. Dr. Martin Luther King Jr., who described him as a "key ingredient to the global struggle for freedom and a powerful tactical weapon in the Civil Rights Movement here in America."
Belafonte financed freedom rides and the Student Non-Violent Coordinating Committee, supported voter registration drives and helped organize the March on Washington.
He also played a significant role in ending apartheid in South Africa and in the release from prison of his friend, the late Nelson Mandela.
At UD, Belafonte will speak about the Civil Right Movement and what people must do today to advance King's dream.
For ticket information, call the UD box offices at 302-831-4012.
For general information, call the Center for Black Culture at 302-831-2991, and for a flyer about the event, click here.
The event is organized by the Center for Black Culture with support from the Cultural Programming Advisory Board, the Black Student Union, the Office of Student Life, the Office of Residence Life and Housing, the Office of Equity and Inclusion and the Black Alumni Organization.