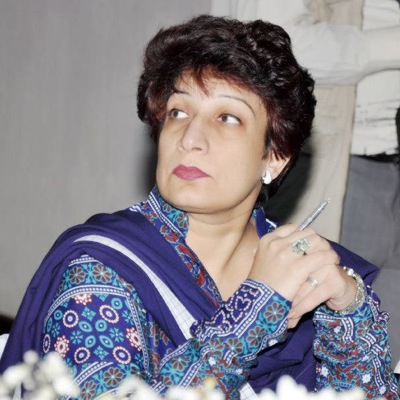 Feb. 24: Arts of Pakistan
Expert on South Asian art and design to speak
5:37 p.m., Feb. 20, 2014--Kanwal Khalid, an expert on the history of South Asian art and design, will discuss the arts of Pakistan in a free public lecture at 6 p.m., Monday, Feb. 24, in Room 109 of the Willard Hall Education Building on the University of Delaware's Newark campus.
The program is sponsored by the University's Department of Art.
June 5: Blue Hen 5K
University of Delaware graduates planning to attend Alumni Weekend are encouraged to register for the annual Blue Hen 5K walk and run, which will be held Sunday morning, June 5.
June 6-9: Food and culture series
The 20th annual June Lecture Series at the Osher Lifelong Learning Institute at UD in Wilmington will be held June 6-9. Titled 'June a la Carte,' this year's program focuses on great political documents, feminism, world politics and a Newark cuisine sampler.
Khalid's particular focus is on miniature painting in 19th century Lahore, Pakistan.
A practicing miniaturist herself, she is currently an assistant professor at the Institute of Design and Visual Arts, Lahore College for Women University. Previously she was the curator of paintings at the Lahore Museum.
Earlier, she held positions ranging from protocol officer under the chief minister of the Punjab to fine arts consultant with the Federal Ministry of Education in the nation's capital of Islamabad. 
She has made documentary films about the art and culture of Lahore, and her publications include Gems and Jewels of India, Symbolic Representation of the Rise and Fall of Power and Portraits of Lahore through the Centuries, as well as The Concept of Infinity in Turkish Miniature Paintings. 
Khalid serves on the editorial board of the Trust for History, Art and Architecture of Pakistan (THAAP), a forum for publications and research journal. She is also a board member of several organizations, including the Rotary Club Lahore Mozang and the Delaware Lahore Delhi Partnership for Peace, a nonprofit NGO of private citizens in the United States, Pakistan and India dedicated to the creation of mutual understanding and goodwill. 
Khalid holds a BFA and MFA in graphic design, an MPhil in art history, and a Ph.D. in fine arts, all from Punjab University in Lahore.