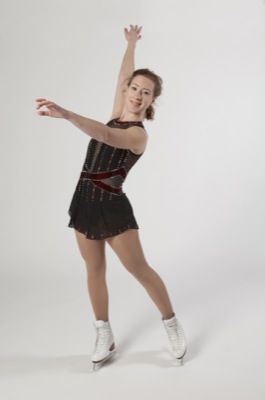 Dec. 13: Skating show
'Winter Spectacular' ice skating show to feature members of U.S. National Team
1:56 p.m., Dec. 9, 2013--The University of Delaware Ice Arena will present a "Winter Spectacular" ice skating show at 7 p.m., Friday, Dec. 13, in the Fred Rust Ice Arena, on Route 896 in Newark.
Featured in the show will be skaters who have qualified for the U.S. National Championships, including Championship-level dance teams and guest skaters from local rinks.
June 5: Blue Hen 5K
University of Delaware graduates planning to attend Alumni Weekend are encouraged to register for the annual Blue Hen 5K walk and run, which will be held Sunday morning, June 5.
June 6-9: Food and culture series
The 20th annual June Lecture Series at the Osher Lifelong Learning Institute at UD in Wilmington will be held June 6-9. Titled 'June a la Carte,' this year's program focuses on great political documents, feminism, world politics and a Newark cuisine sampler.
Tickets -- $10 for adults, $7 for seniors and $5 for children 12 and under, groups and Learn to Skate participants -- are on sale now at UD box offices at the Bob Carpenter Center and the Trabant University Center. For information, call 302-831-2868.
Performing in the show will be three skaters fresh from success at the 2014 regional and sectional competitive season who have qualified for the 2014 U.S. National Championships in Boston, Jan. 5-12. They are Jordan Evans, South Atlantic Regional silver medalist and Eastern Sectional pewter medalist in the juvenile boys category; Hannah Jo, South Atlantic and Eastern Sectional silver medalist in the juvenile girls category; and Ben Jalovick, South Atlantic Silver medalist and Eastern Sectional pewter medalist in the junior men's category.
"We're very excited to present this skating show with so many young skaters who have been training intensely and are now moving up the ladder of success," said Angie Cardello, program coordinator of the UD High Performance Figure Skating Center. 
Also featured in the show will be
• The championship level Ice Dance team of Isabella Cannuscio and Michael Bramante, the 2013 Eastern Sectional silver medalists and National and International Team members;
• The championship level Ice Dance team of Anastasia Cannuscio and Colin McManus, just back from their victory at the 2013 Ice Challenge International competition in Graz, Austria, Junior World Team members in 2011, and members of Team USA for the past five years; and
• The championship level Ladies competitor Clara Peters, a four-time National champion for Ireland, the first figure skater to ever represent Ireland in international competitive figure skating, and the first to bring home an international medal.
In addition, the show will feature skaters from the UD Collegiate Figure Skating Team, reigning national champions; and skaters representing various Ice Dance teams representing the U.S., Ukraine and Great Britain.
Two UD synchronized skating teams also will perform. The Novice Team, the 2013 Eastern pewter medalists, will skate to "Bring It On: the Musical," and the Junior Team, the 2013 Eastern silver medalists, will perform to "America."