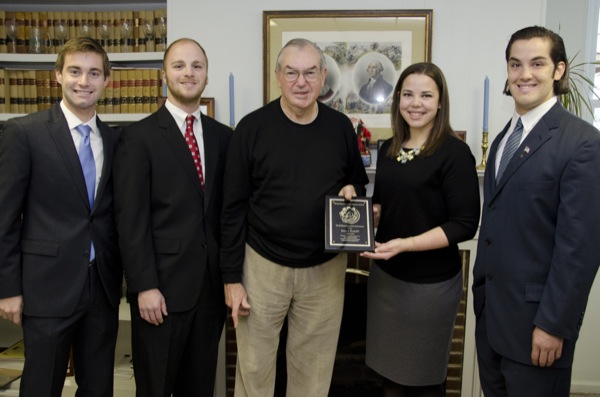 Funk honored
Student Government Association honors former Newark mayor Vance Funk
1:53 p.m., Dec. 10, 2013--Representatives of the University of Delaware Student Government Association (SGA) recently visited Vance A. Funk III, former mayor of Newark, to thank him for his dedication to the campus community. 
SGA student body president Jessica Borcky presented Funk with an award recognizing his loyal service and committed support to UD students throughout his eight-year tenure.
National Medal of Science
President Barack Obama recently presented the National Medal of Science to University of Delaware alumnus Rakesh Jain.
Warren Award
Rosalind Johnson, assistant dean for student success in the NUCLEUS Program in UD's College of Arts and Sciences, was presented the John Warren Excellence in Leadership and Service Award during a May 26 ceremony.
Borcky was accompanied by SGA's chief justice, Javier Horstmann, and governmental affairs senators Geoffrey Heath and Andrew Miller.
"As a fellow Blue Hen, Mayor Funk understood the valuable relationship between the city of Newark and the University of Delaware, and took time to connect with students," said Borcky. "On behalf of the student body, SGA wanted to recognize his support for students and efforts to improve the Newark community as a whole by presenting him with a plaque in appreciation for his service as mayor."
Funk will remain in Newark, where he has lived since 1959, and will continue to serve the community through his real estate law practice.
Article and photo by Casey Impagliazzo