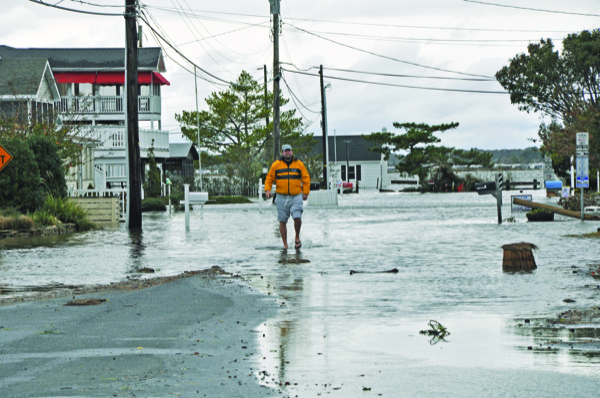 Jan. 29: Community resiliency workshop
Delaware Sea Grant helping communities prepare for natural hazards
1:15 p.m., Dec. 17, 2013--Delaware Sea Grant is offering a free workshop to help communities statewide plan for hurricanes, flooding and other hazards.
The Delaware Community Resiliency and Adaptation Workshop will be held on Wednesday, Jan. 29, from 8:30 a.m. to 4 p.m. at the DNERR St. Jones Reserve Coastal Training Center in Dover. The Delaware Department of Natural Resources and Environmental Control (DNREC) and the National Disaster Preparedness Training Center (NDPTC) are co-sponsors. 
June 5: Blue Hen 5K
University of Delaware graduates planning to attend Alumni Weekend are encouraged to register for the annual Blue Hen 5K walk and run, which will be held Sunday morning, June 5.
June 6-9: Food and culture series
The 20th annual June Lecture Series at the Osher Lifelong Learning Institute at UD in Wilmington will be held June 6-9. Titled 'June a la Carte,' this year's program focuses on great political documents, feminism, world politics and a Newark cuisine sampler.
"This is an opportunity to learn more about mitigating risk from hazards," said Wendy Carey, coastal processes specialist with Delaware Sea Grant. 
The training is geared toward officials in local government, emergency management, environmental resources, public works, land use planning, hazard mitigation and related areas.
National and state experts will lead two sessions during the daylong program. In the morning, NDPTC instructors will explain resiliency concepts with a focus on community-based planning, preparedness, response and recovery. As part of this Federal Emergency Management Agency (FEMA) certified course, instructors will demonstrate how to integrate risk-based, collaborative strategies into plans and programs. 
The afternoon session will focus specifically on Delaware, with examples of resiliency and adaptation solutions already in place in several local communities. Participants can learn how to incorporate hazard mitigation in other planning efforts, such as carefully considering future flood risk in creating zoning ordinances or exceeding minimum building requirements to reduce storm damage. 
"There are many opportunities for complementary activities," Carey said.
With hurricanes, heavy precipitation and tornadoes having hit around the state in the past few years, natural hazards and the risks they pose are fresh in people's minds, Carey said. The preparation approaches covered in the upcoming workshop apply to both today's hazards and those on the horizon. 
"Many of the tools communities already use to manage growth, mitigate hazards and protect natural resources are often the same ones that will be beneficial in the future for climate change," Carey said. "These 'no regrets' or 'win-win' approaches help improve community resiliency to shorter term hazards, while enhancing a community's ability to adapt to longer term climate impacts."
Various resources will be provided to workshop attendees, including information on new FEMA flood maps, the Delaware Coastal Flood Monitoring System, the state's Sea Level Rise Adaptation Plan and recently passed drainage and stormwater recommendations.
The event is free, but registration is required and can be completed at this website. The DNERR St. Jones Reserve Coastal Training Center at 818 Kitts Hummock Road in Dover, Del. For more information, contact Wendy Carey at 302-645-4258 or wcarey@udel.edu. 
About the Delaware Sea Grant College Program
The University of Delaware was designated as the nation's ninth Sea Grant College in 1976 to promote the wise use, conservation and management of marine and coastal resources through high-quality research, education and outreach activities that benefit the public and the environment. UD's College of Earth, Ocean, and Environment administers the program, which conducts research in priority areas ranging from seafood safety to coastal hazards.
Article by Teresa Messmore
Photo by Wendy Carey