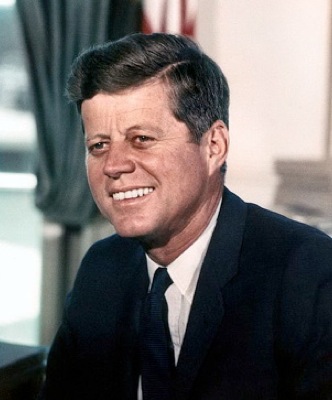 Through Feb. 7: 'JFK: Poets Remember'
University Library hosts exhibition 'JFK: Poets Remember'
12:56 p.m., Dec. 18, 2013--The University of Delaware Library has announced that the exhibition "JFK: Poets Remember" has been extended and will be on view in the Information Room on the first floor of the Morris Library through Friday, Feb. 7, 2014.
The date Nov. 22, 2013, marks the 50th anniversary of the assassination of John Fitzgerald Kennedy, 35th president of the United States, by Lee Harvey Oswald.
June 5: Blue Hen 5K
University of Delaware graduates planning to attend Alumni Weekend are encouraged to register for the annual Blue Hen 5K walk and run, which will be held Sunday morning, June 5.
June 6-9: Food and culture series
The 20th annual June Lecture Series at the Osher Lifelong Learning Institute at UD in Wilmington will be held June 6-9. Titled 'June a la Carte,' this year's program focuses on great political documents, feminism, world politics and a Newark cuisine sampler.
Like the events of Sept. 11, 2001, the Kennedy assassination remains etched in the memory of those who witnessed it. The shooting of the young, charismatic president produced a reaction of stunned disbelief on the part of many Americans and, perhaps as many thought, brought an end to a period marked by a certain political and social idealism.
There was an artistic response to Kennedy's death, as well. As with the assassination of Abraham Lincoln almost a century earlier, Kennedy's shooting inspired an outpouring of verse. W.H. Auden, Gwendolyn Brooks, Allen Ginsberg and many other noted figures produced poems whose form, style and tone vary greatly, but which all bear witness to this key event in America's collective memory. 
The exhibition will display a first edition of the anthology Of Poetry and Power: Poems Occasioned by the Presidency and by the Death of John F. Kennedy, which came out in 1964. Other poems and photographs from the Special Collections Department will also be featured.
An online version of the exhibition is available.
The curator of the exhibition "JFK: Poets Remember" was Curtis Small, assistant librarian, Special Collections Department.
About Special Collections
Holdings of Special Collections of the University of Delaware Library include books, manuscripts, maps, prints, photographs, broadsides, periodicals, pamphlets, ephemera and realia from the 15th to the 21st century.
The collections complement the library's general collections with particular strengths in the subject areas of the arts; English, Irish and American literature; history and Delawareana; horticulture; and history of science and technology.
Special Collections is located on the second floor of the Morris Library.