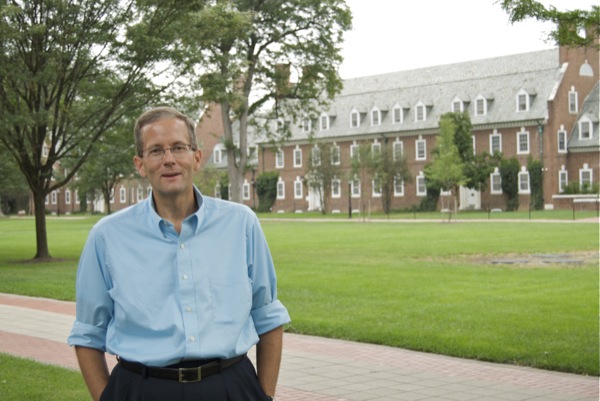 AASC president
Leathers elected president of state climatologists association
1:25 p.m., Dec. 10, 2013--Dan Leathers, Delaware state climatologist and professor of geography in the University of Delaware's College of Earth, Ocean, and Environment, has been elected president of the American Association of State Climatologists (AASC). 
The national organization promotes cooperation between state climatologists and agencies that collect and analyze climate information. 
National Medal of Science
President Barack Obama recently presented the National Medal of Science to University of Delaware alumnus Rakesh Jain.
Warren Award
Rosalind Johnson, assistant dean for student success in the NUCLEUS Program in UD's College of Arts and Sciences, was presented the John Warren Excellence in Leadership and Service Award during a May 26 ceremony.
"The AASC serves as a liaison between climatologists and the public, large organizations and policy makers," Leathers said. "I'd really like to build our relationships with those organizations and see the AASC become more involved in policy-making on a federal and state level."
State climatologists are responsible for providing weather and climate data to their states and partners through research, outreach and education. In most states, the position is designated and agreed upon by the state's governor, a state university and the National Climatic Data Center.
AASC has more than 100 members, including state climatologists from 47 states. The organization meets annually to discuss ongoing climate-related issues, potential solutions and future goals. 
In his two-year term as president, Leathers aims to increase the stature of the association, build relationships with the national organizations and create institutional memberships to get universities more involved with the AASC.
Leathers will also represent the AASC to the public and other organizations, such as the National Oceanic and Atmospheric Association, the National Science Foundation and the U.S. Geological Survey. 
Leathers earned his doctorate in geography from Pennsylvania State University in 1988. After teaching at the University of Nebraska-Lincoln, he joined the UD faculty in 1991 as an assistant professor of geography. He attained the rank of full professor in 2001 and served as department chair from 2001-06.
In addition to the AASC, Leathers belongs to the American Meteorological Society, American Geophysical Union and the Association of American Geographers.
Leathers serves as the co-director of the Delaware Environmental Observing System (DEOS), a support tool for decision makers involved with emergency management, natural resource monitoring, transportation and other activities. DEOS provided valuable weather information to the National Weather Service during Hurricane Sandy and Hurricane Irene. 
Article by Andrew Cooper
Photo by Lisa Tossey