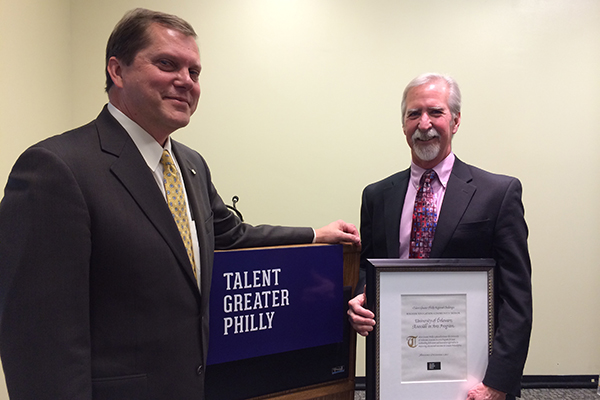 AAP accolades
UD's Associate in Arts Program chosen as best in region
4:19 p.m., Dec. 17, 2013--The University of Delaware Associate in Arts Program won accolades this month as one of the most innovative initiatives in the Philadelphia area.  Talent Greater Philly chose the program as an honoree in its 2013 Regional Challenge, awarding UD the higher education honor.
The challenge highlights institutions working to improve college access and degree completion for residents in the Greater Philadelphia region.  It applauded UD's Associate in Arts Program, noting its substantially reduced tuition makes it possible for many students to begin their journey toward a bachelor's degree with a lesser financial burden.  
National Medal of Science
President Barack Obama recently presented the National Medal of Science to University of Delaware alumnus Rakesh Jain.
Warren Award
Rosalind Johnson, assistant dean for student success in the NUCLEUS Program in UD's College of Arts and Sciences, was presented the John Warren Excellence in Leadership and Service Award during a May 26 ceremony.
Courses in the program are taught by UD faculty on the campuses of Delaware Technical Community College in Wilmington, Dover and Georgetown. 
"In state it's a super bargain since most in-state students qualify for SEED," said Jack Bartley, AAP faculty director. Delaware SEED scholarships are provided by the state of Delaware and cover tuition for full time students enrolled in the Associate in Arts Program.
Students who complete the required coursework earn an associate's degree. Courses taken are recorded on the student's UD transcript and count toward completion of a UD bachelor's degree. The program's success is notable, far exceeding national degree completion rates. Sixty-four percent of AAP enrollees graduate.
"It's a two-year liberal arts degree meant to be a gateway to a four-year degree," said George Watson, dean of the College of Arts and Sciences.
Most graduates transition to the Newark campus and earn a bachelor's degree. Those who take full advantage of the program and SEED scholarship pay just one-third the amount a student enrolled full time for four years on the Newark campus would for the same degree.
The award was presented during a ceremony at WHYY's studios in Philadelphia. Independence Blue Cross and the Philadelphia Education Fund took honors in other categories. 
About Talent Greater Philly
Talent Greater Philly stakeholders are dedicated to improving the educational attainment of the region's residents. Participating organizations include:  Campus Philly, CEO Council for Growth, city of Philadelphia Mayor's Office of Education, Council for Adult and Experiential Learning, Community College of Philadelphia, Delaware Valley Grantmakers, Deloitte LLP, District 1199C Training and Upgrading Fund, Economy League of Greater Philadelphia, Graduate! Philadelphia, Greater Philadelphia Chamber of Commerce, Knight Foundation, OMG Center for Collaborative Learning, Pennsylvania State System of Higher Education, Philadelphia Academies Inc., Philadelphia Council for College and Career Success, Philadelphia Education Fund, Philadelphia Foundation, Philadelphia Works Inc., Philadelphia Youth Network, United Way of Southeastern Pennsylvania and the University of Pennsylvania.