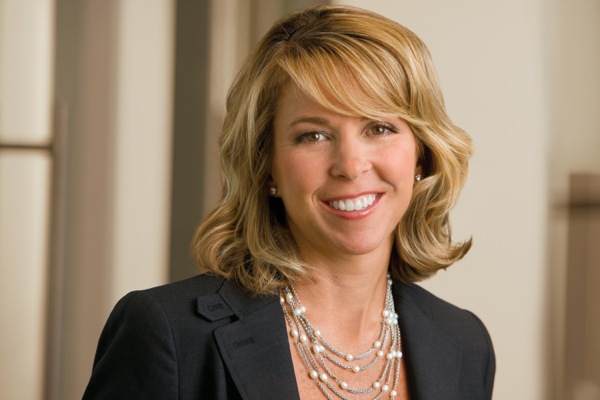 Jan. 12: Commencement speaker
Liz Ann Sonders to speak at University's Winter Commencement
4:49 p.m., Dec. 13, 2013--Liz Ann Sonders, senior vice president and chief investment strategist for Charles Schwab and Co. and a University of Delaware alumna, will speak at the University's Winter Commencement, scheduled at 2 p.m., Sunday, Jan. 12, in the Bob Carpenter Sports/Convocation Center.
Winter Commencement, for students who complete their degree requirements in August and December, traditionally features a distinguished UD graduate as speaker.
June 5: Blue Hen 5K
University of Delaware graduates planning to attend Alumni Weekend are encouraged to register for the annual Blue Hen 5K walk and run, which will be held Sunday morning, June 5.
June 6-9: Food and culture series
The 20th annual June Lecture Series at the Osher Lifelong Learning Institute at UD in Wilmington will be held June 6-9. Titled 'June a la Carte,' this year's program focuses on great political documents, feminism, world politics and a Newark cuisine sampler.
Sonders is one of the most influential women in the world of finance, is regularly quoted in major financial publications and frequently appears on such major national media outlets as CNBC, ABC's Good Morning America, CBS This Morning, PBS NewsHour and Fox Business News, among others. She was a regular panelist and guest host on PBS's Wall Street Week With Louis Rukeyser.
At Schwab, she has a range of investment strategy responsibilities, reaching from market and economic analysis to investor education, all focused on individual investors. She analyzes and interprets the economy and markets on behalf of Schwab's entire client base and chairs Schwab's Investment Strategy Council, which provides strategic asset-allocation guidance and tactical sector recommendations for the company's investor base.
Sonders is a regular contributor to all of the company's client newsletters and is the keynote speaker at many of its corporate and client events. She's also a keynote speaker at many outside conferences, including for Barron's, FPA, CFA Institutes, Morningstar and IMCA. 
Since joining Schwab, Sonders has been named one of SmartMoney's "Power 30," its list of the most influential people on Wall Street; strategist of the year by Kiplinger's; one of the "25 Most Powerful Women in Finance" by American Banker/USBanker and one of the "50 Top Women in Wealth" by Wealth Manager/AdvisorOne.
In 2005, she was appointed to and served on the President's Advisory Panel on Federal Tax Reform, President George W. Bush's bipartisan tax-reform commission. Since 2007 she has served on the national board of directors for the Make-A-Wish Foundation of America and in 2008 she was honored by the Girl Scouts of New York as an "Exceptional Role Model for Young Women." 
Prior to joining Schwab in 2002, Sonders was a managing director at U.S. Trust (a division of Schwab from 2000-07) and a member of its Investment Policy Committee. Before U.S. Trust, she was at Avatar Associates, an original division of the Zweig/Avatar Group, for 13 years as a managing director and senior portfolio manager.
Sonders received her bachelor's degree from the University of Delaware in 1986, and she sits on UD's Investment Visiting Committee. She received a master of business administration degree from Fordham University.
Sonders was one of 10 UD alumni inducted into the Alumni Wall of Fame earlier this year, saying, "I had a wonderful experience at UD, where I learned how to learn and how to manage the new freedom that accompanies leaving the 'nest.' They say opportunity knocks, but that's not always true. In my experience, opportunity needs to be pursued with passion, actualized by diligence and enjoyed with humility — but also shared with those behind us."
She was a featured speaker at the University's special 2009 conference, "Creating New Economies for Delaware, the Region and the Nation."
About the ceremony
For more information on Winter Commencement activities, visit the special Winter Commencement webpage, send email to commencement@udel.edu or call 302-831-2113.