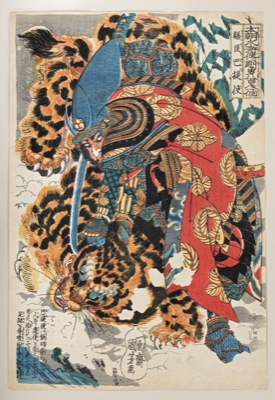 Sept. 4-Dec. 8: 'Samurai to Soldier'
'From Samurai to Soldier' exhibition on view at Old College Gallery
8:56 a.m., Aug. 30, 2013--The University Museums of the University of Delaware will present the exhibition "From Samurai to Soldier: Japanese Prints of War 1830-1897" in the Old College Gallery from Sept. 4-Dec. 8.
The mention of Japanese woodblock prints or ukiyo-e (literally "floating-world pictures") usually suggests images of serene landscapes, famous Japanese landmarks and beautiful women (bijin-ga).
June 5: Blue Hen 5K
University of Delaware graduates planning to attend Alumni Weekend are encouraged to register for the annual Blue Hen 5K walk and run, which will be held Sunday morning, June 5.
June 6-9: Food and culture series
The 20th annual June Lecture Series at the Osher Lifelong Learning Institute at UD in Wilmington will be held June 6-9. Titled 'June a la Carte,' this year's program focuses on great political documents, feminism, world politics and a Newark cuisine sampler.
However, a less well-known but equally popular form of the Japanese woodblock prints were musha-e, or warrior prints and sensō-e or scenes of contemporary war.
As nationalist sentiment in Japan grew during the course of the 19th century, printmakers and publishers produced thousands of war prints for a public enthralled by their dynamic compositions, heightened action, and depictions of remarkable heroism and bloody violence. 
This exhibition presents musha-e and sensō-e from the Edo (1603-1868) and Meiji (1868-1912) periods, illustrated the shift in subject matter from imagined scenes of 16th century samurai to soldiers of the late 19th century Sino-Japanese War.
For more information see the University Museums website or call 302-831-8037.
The 19 prints on view were generously lent by Hong Gyu Shin, who graduated from UD in 2013. In addition to his interests as a collector, he opened the Shin Gallery – dedicated to contemporary Korean Art -- in January.
The exhibition is curated by Anna Juliar and Hong Gyu Shin. Anna Juliar, a doctoral student in art history, was the research assistant for the University Museums from 2012-13. She is currently the Margaret R. Mainwaring Curatorial Fellow in the Prints, Drawings and Photographs Department of the Philadelphia Museum of Art.