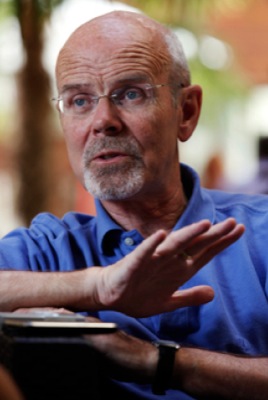 Sept. 27: Norton Memorial Lecture
Noted moral, political theorist Pettit to deliver Norton Memorial Lecture
8:51 a.m., Aug. 30, 2013--Philip Pettit, a noted moral and political theorist, will deliver the fall David Norton Memorial Lecture at 3:45 p.m., Friday, Sept. 27, in 104 Gore Hall on the University of Delaware campus in Newark.
The lecture, which is free and open to the public, is sponsored UD's Department of Philosophy.
June 5: Blue Hen 5K
University of Delaware graduates planning to attend Alumni Weekend are encouraged to register for the annual Blue Hen 5K walk and run, which will be held Sunday morning, June 5.
June 6-9: Food and culture series
The 20th annual June Lecture Series at the Osher Lifelong Learning Institute at UD in Wilmington will be held June 6-9. Titled 'June a la Carte,' this year's program focuses on great political documents, feminism, world politics and a Newark cuisine sampler.
Pettit, who is the L.S. Rockefeller University Professor of Politics and Human Values at Princeton University and Distinguished Professor at Australian National University, will speak on "Democracy and Justice."
Pettit was elected a fellow of the American Academy of Arts and Sciences in 2009, an honorary member of the Royal Irish Academy in 2010 and a corresponding fellow of the British Academy in 2013.
His books include The Common Mind (1996), Republicanism (1997), A Theory of Freedom (2001), Rules, Reasons and Norms (2002), Penser en Societe  (2004), Examen a Zapatero (2008), Made with Words: Hobbes on Mind, Society and Politics (2008) and, most recently, On the People's Terms: A Republican Theory and Model of Democracy (2012).
The lecture is supported by the David Norton Memorial Fund, which honors the late UD philosophy professor; the Makaguchi Foundation; the Class of 1955 Ethics Endowment Fund; and the American Philosophical Association.
Refreshments will follow the lecture in the lobby of Gore Hall.
For details, call 302-831-2359.