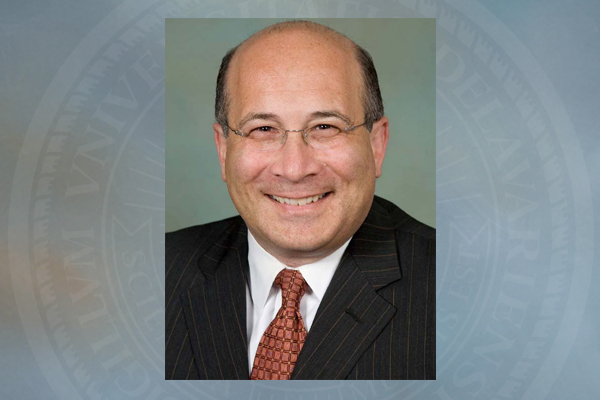 May 7: Tyler Lecture
Business journalist Insana to deliver talk in executive leadership series
8:24 a.m., April 17, 2014--Business journalist Ron Insana, invited lecturer at the next Chaplin Tyler Executive Leadership Series at the University of Delaware, has interviewed world leaders, billionaire investors and captains of industry including former President Bill Clinton, Warren Buffett, Bill Gates, George Soros, Jack Welch, former Soviet leader Mikhail Gorbachev and Queen Raina of Jordan.
Insana's presentation, which is free and open to the public, will be held at 2:30 p.m., Wednesday, May 7, in 115 Purnell Hall on the UD campus in Newark. Attendees are asked to register in advance online.
June 5: Blue Hen 5K
University of Delaware graduates planning to attend Alumni Weekend are encouraged to register for the annual Blue Hen 5K walk and run, which will be held Sunday morning, June 5.
June 6-9: Food and culture series
The 20th annual June Lecture Series at the Osher Lifelong Learning Institute at UD in Wilmington will be held June 6-9. Titled 'June a la Carte,' this year's program focuses on great political documents, feminism, world politics and a Newark cuisine sampler.
A highly regarded lecturer who was named one of the "Top 100 Business News Journalists of the 20th Century" and nominated for a news and documentary Emmy for his NBC coverage of 9/11, Insana is a contributor to CNBC and MSNBC, where he discusses the most pressing economic and market issues of the day. 
He has written for Money magazine and USA Today and has hosted two nationally syndicated radio programs. He also delivers The Market Scoreboard Report to radio stations around the country.
Since beginning his career in 1984 at the Financial News Network (FNN), Insana has been a highly respected business journalist and money manager for three decades, joining CNBC when the network merged with FNN in 1991. From 2006 to 2008, he also held a role as CEO of Insana Capital Partners, which managed the $125 million "Legends Fund" at its peak.
Insana has authored four books on Wall Street and is a highly regarded lecturer on domestic and global economics, financial markets and economic policy issues.
About the Tyler Lecture
The Chaplin Tyler Executive Leadership Lecture Series in UD's Alfred Lerner College of Business and Economics brings leaders from business, nonprofit organizations and the government to campus to share their experiences and insights with students, faculty and the business community in an open exchange of ideas and perspectives.
The series, which is supported by the Chaplin Tyler Endowment Fund, is dedicated to the memory of Chap and Elizabeth Tyler, their commitment to education and their determination to help young people achieve success in the business world.