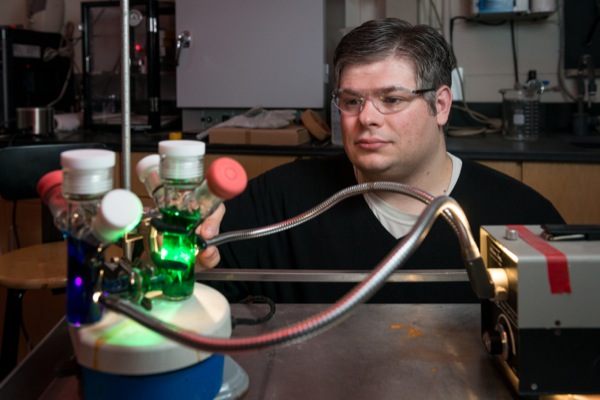 NSF Career Award
Chemist Joel Rosenthal awarded research grant in renewable energy conversion
2:12 p.m., April 8, 2014--Joel Rosenthal, assistant professor of chemistry and biochemistry at the University of Delaware, has received a highly competitive Faculty Early Career Development Award from the National Science Foundation (NSF) to support his research in renewable energy and molecular energy conversion.
Rosenthal has won widespread attention recently for his work seeking new catalyst platforms that use electricity generated from solar energy to convert carbon dioxide into synthetic liquid fuels for powering cars, homes and businesses. When that type of conversion is successful, carbon dioxide, or CO2, a major greenhouse gas, can provide a feedstock for the production of synthetic petroleum, offering a potential route to the replacement of fossil fuels.
National Medal of Science
President Barack Obama recently presented the National Medal of Science to University of Delaware alumnus Rakesh Jain.
Warren Award
Rosalind Johnson, assistant dean for student success in the NUCLEUS Program in UD's College of Arts and Sciences, was presented the John Warren Excellence in Leadership and Service Award during a May 26 ceremony.
Last year, his research team developed an efficient catalyst using bismuth — a plentiful and inexpensive substance — for the CO2 conversion process. Those results were published in the Journal of the American Chemical Society and led to Rosenthal's selection to receive a prestigious Alfred P. Sloan Fellowship and a Camille and Henry Dreyfus Award in Environmental Chemistry, which provided funds to support a postdoctoral researcher in his lab for two years.
The NSF award, which totals $650,000 over five years, funds research "with similar goals involving energy catalysis but pertains to distinct science from those previous awards," Rosenthal said. Instead of focusing on the aspect of his work that deals with the bismuth-based catalyst, the Career Award supports his research on a class of molecules called porphyrinoids, which intensely absorb light.
"Porphyrin is a common cofactor that is heavily relied upon in biology," Rosenthal said. "Porphyrin derivatives are used in nature for light-harvesting" and are found in the photosynthetic architecture of plants. Porphyrins are also used by nature as platforms for many catalytic transformations and the activation and transport of small molecules.
"Porphyrin has wonderful photochemical properties" but is limited in its ability to transfer multiple electrons, Rosenthal said, which is a critical process for many of the energy conversion reactions that his research group is studying. In recent years, his team has developed a structure called the phlorin, which is a novel porphyrinoid with enhanced multi-electron redox (reduction-oxidation) properties.
Before that development, he said, "There had been no directed synthesis of phlorins, and their light-absorbing and electron-transfer properties had not been explored."
With the NSF support, his research team will continue to synthesize and study molecules that can be used as catalysts, particularly for molecular energy conversion reactions. Rosenthal noted that because of the porphyrins' photochemical properties, the light they can harvest can be useful in directly driving the photochemical or solar catalytic reactions.
Training and mentoring future scientists
Rosenthal's NSF Career Award also includes a two-part outreach component that targets ways to teach and engage young people. In particular, he and his lab will work directly with both UD undergraduates and Newark area high school students, in chemistry and energy science. 
The UD portion of the project involves revamping the inorganic chemistry laboratory experience for chemistry majors, enhancing the current lab module by providing students with the opportunity to conduct modern experiments that take advantage of electrochemical analyses using individual, hand-held instruments. Adding electrochemistry to the lab course is critical, Rosenthal said, because "these techniques are more than ever an important focus of inorganic chemistry."
In addition, the award provides for summer research opportunities for two high school students who will participate in authentic research experiences in Rosenthal's lab. Laboratory work in high school chemistry, he said, often involves a "cookbook" approach of following a set of instructions to get a predetermined result. 
"Real research isn't anything like that," Rosenthal said. "It's discovery, and high school students who experience that sense of discovery are more likely to want to pursue a career in STEM research. I had the opportunity to work in a lab when I was in high school, and it made all the difference to me."
Article by Ann Manser
Photo by Evan Krape