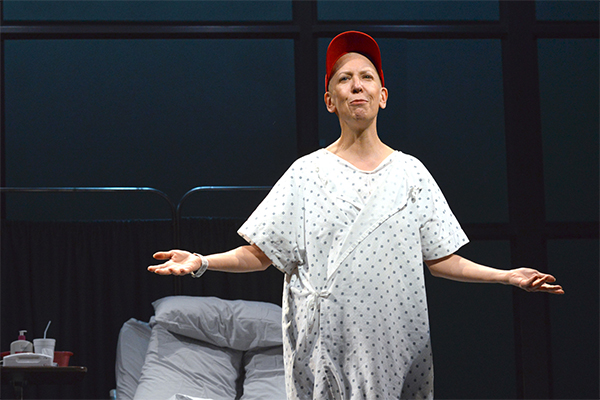 Through May 10: REP stages 'WIT'
REP to close 2013-14 season with Margaret Edson's 'WIT'
8:01 a.m., April 24, 2014--The Resident Ensemble Players (REP) at the University of Delaware closes the 2013-14 season with the play WIT by Margaret Edson, running through May 10 in the Roselle Center for the Arts.
Tickets are $22-$28, with discounts for students and senior adults. Tickets can be purchased online, by phone at 302-831-2204, or in person at the Roselle Center for the Arts, 110 Orchard Rd., Monday through Friday from noon until 5 p.m.
June 5: Blue Hen 5K
University of Delaware graduates planning to attend Alumni Weekend are encouraged to register for the annual Blue Hen 5K walk and run, which will be held Sunday morning, June 5.
June 6-9: Food and culture series
The 20th annual June Lecture Series at the Osher Lifelong Learning Institute at UD in Wilmington will be held June 6-9. Titled 'June a la Carte,' this year's program focuses on great political documents, feminism, world politics and a Newark cuisine sampler.
The play's main character, Vivian Bearing, has always prided herself in her sharp intellect and biting repartee while teaching college students the wit and wisdom of poet John Donne. But when she is suddenly faced with a lift-threatening illness, Vivian finds that a life lived only in the head, neglecting the heart, may not ultimately be fulfilling.
"I think the play tells us that our happiness and destiny is in our own hands; it's not a matter of circumstance or situation, it's a matter of being a certain kind of human being," says the play's director, Sanford Robbins. "Vivian Bearing learns this the hard way. She's a scholar of John Donne, who wrote 'No man is an island unto himself.' But when Vivian is confronted with a tremendous health challenge, she looks back on her life and realizes that she, indeed, had created herself into island of isolation. Through her experience, she comes to realize the importance and power of human connection and of taking responsibility for how one lives in the world."
The performance schedule for WIT is as follows: April 24, 25, 26, and May 1, 2, 3, 7, 8, 9 and 10, all at 7:30 p.m.; and April 27 and May 3, 4 and 10, all at 2 p.m.
The REP will present two free pre-show discussions, one on Saturday, May 3, and one on Saturday, May 10, each beginning at 1:15 p.m.
On May 3, Kevin Kerrane, UD professor of English, will discuss the play and on May 10, Joan DelFatore, professor emerita of English, will discuss her own life experience, which parallels that of the character of Vivian.
Post-performance discussions with the actors in WIT will take place following the performances on Thursday, May 1, and Sunday, May 4.
The Roselle Center for the Arts is located at 110 Orchard Road, on the corner of Orchard Road and Kent Way, in Newark. A convenient parking garage is attached to the center.
A complete schedule, directions, and information on purchasing tickets can be found at the REP's website or by calling the REP's box office at 302-831-2204.
About the REP
The Resident Ensemble Players (REP) is a professional theatre company located at the University of Delaware whose mission is to engage audiences throughout the tri-state area with frequent productions of outstanding classic, modern, and contemporary plays performed in a wide variety of styles that celebrate and demonstrate the range, breadth, and ability to transform a full-time ensemble of nationally respected stage actors who have been trained in the same way.
The REP is committed to create future audiences for live theatre by offering its productions at low prices that enable and encourage the attendance of everyone in the region, regardless of income.
Photo by Nadine Howatt