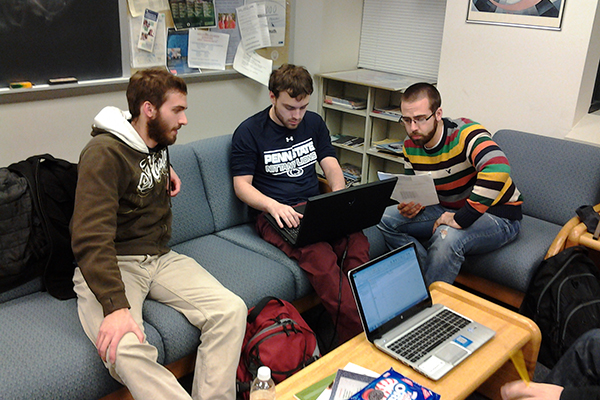 Math modeling success
Undergraduate UD team recognized in international math competition
8:49 a.m., April 15, 2014--Three University of Delaware students who competed in this year's Mathematical Competition in Modeling were among just 12 teams designated as "finalists" among more than 4,000 contest entrants worldwide. A second UD team earned a "successful" rating in the same competition.
The annual contest "challenges teams of students to clarify, analyze and propose solutions to open-ended problems," according to the competition website. The problem that both UD teams took on was to produce a quantitative analysis of the common traffic rule that requires vehicles to keep right except to pass.
National Medal of Science
President Barack Obama recently presented the National Medal of Science to University of Delaware alumnus Rakesh Jain.
Warren Award
Rosalind Johnson, assistant dean for student success in the NUCLEUS Program in UD's College of Arts and Sciences, was presented the John Warren Excellence in Leadership and Service Award during a May 26 ceremony.
Seniors Joe Brosch and Dylan Spence, who both are math and physics students, and Andrea Carosso, a senior physics and philosophy student, made up the team receiving the rating of finalist. Of the 12 teams earning that recognition level, only UD and Tufts University were from the United States. 
"We truly have one of the best undergraduate programs in the country and in the world," wrote UD team adviser Louis Rossi, professor of mathematical sciences and of computer and information sciences, in announcing the competition results.
"[Team members] applied their knowledge of modeling, fluids, statistical mechanics and good ol' fashioned calculus to find the grand canonical partition function for vehicular travel. From there, they prove that the keep-right-except-to-pass rule offers better flow than not having the rule as long as there are fewer than 20 travel lanes."
The other successful UD team consisted of Ryan McKenna, Matt Moye and Chris Falco. In working on the problem, that team proposed an individual-based model and then explored it computationally, Rossi said.
The contest, now in its 30th year, requires participating teams to have three or fewer members. Three questions — each team chose which one they wanted to explore — were posted this year at 8 p.m. on Feb. 6, and the deadline for submitting solutions was 8 p.m. on Feb. 10.  The results were announced earlier this month.