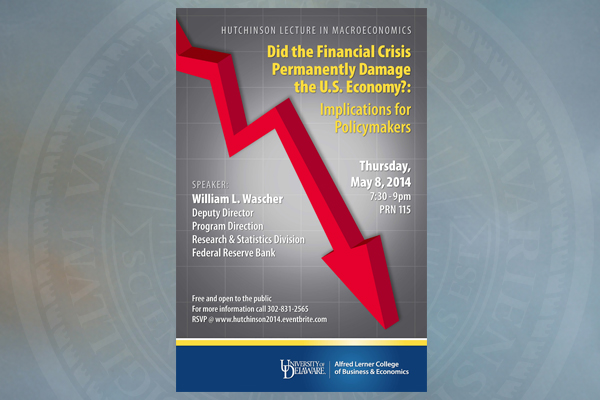 May 8: Hutchinson Lecture
Hutchinson Lecture to feature William L. Wascher, Federal Reserve Bank expert
1:21 p.m., April 18, 2014--William L. Wascher, deputy director, program direction research and statistics division, Federal Reserve Bank, will deliver a presentation on "Did the Financial Crisis Permanently Damage the U.S. Economy?: Implications for Policymakers" at the 24th annual Hutchinson Lecture in macroeconomics at 7:30 pm, Thursday, May 8, in 115 Purnell Hall on the University of Delaware campus in Newark.
Sponsored by UD's Department of Economics and Department of Finance, the lecture is free and open to the public. Attendees are also asked to register online.
June 5: Blue Hen 5K
University of Delaware graduates planning to attend Alumni Weekend are encouraged to register for the annual Blue Hen 5K walk and run, which will be held Sunday morning, June 5.
June 6-9: Food and culture series
The 20th annual June Lecture Series at the Osher Lifelong Learning Institute at UD in Wilmington will be held June 6-9. Titled 'June a la Carte,' this year's program focuses on great political documents, feminism, world politics and a Newark cuisine sampler.
Wascher has been an economist with the board of governors of the Federal Reserve System since 1983. He was a visiting economist at the Bank for International Settlements, Basel, Switzerland, in 1998-99, and a senior staff economist at Council of Economic Advisors, Executive Office of the President 1989-90.
Wascher received his bachelor's degree from the University of Delaware in economics and mathematics in 1978, and his master's and doctoral degrees from the University of Pennsylvania in 1980 and 1983, respectively.
About the Hutchinson Lecture
The Hutchinson Lecture series was established in 1990 to honor the distinguished academic career of the late Harry D. Hutchinson, a professor of economics who taught at UD from 1959-89, and to address a topic of current interest in banking and/or finance.
Hutchinson received his doctorate in economics from the University of Michigan and worked at UD until his retirement. His career was distinguished by excellence in teaching and scholarship, particularly in the area of macroeconomics. His textbook, Money, Banking and the U.S. Economy, was the foundation for many students' introduction to financial institutions. Hutchinson died on July 28, 2005.
Each year a distinguished scholar and policy-maker is invited to present the Hutchinson Lecture. Previous lecturers include Alice Rivlin, senior fellow of economic studies at the Brookings Institution and expert on the federal budget; William Poole, former president of the Federal Reserve Bank of St. Louis and Distinguished Scholar in Residence at UD; Paul Volcker, former chairman of the board of governors of the U.S. Federal Reserve System; Donald Kohn, vice chair of the Federal Reserve System; Charles Plosser, Anthony Santomero and Edward Boehne, all presidents of the Federal Reserve Bank of Philadelphia; Laurence Seidman, Chaplin Tyler Professor of Economics at UD; David Hartzell, Distinguished Professor of Finance and Real Estate at the University of North Carolina, Chapel Hill, and a UD graduate; Warren Coats, author and former International Monetary Fund executive; and Michael C. Jensen, Jesse Isidor Straus professor emeritus of business administration at Harvard University.
For more information, contact the Department of Economics at 302-831-1907.
Article by Terry Hartel