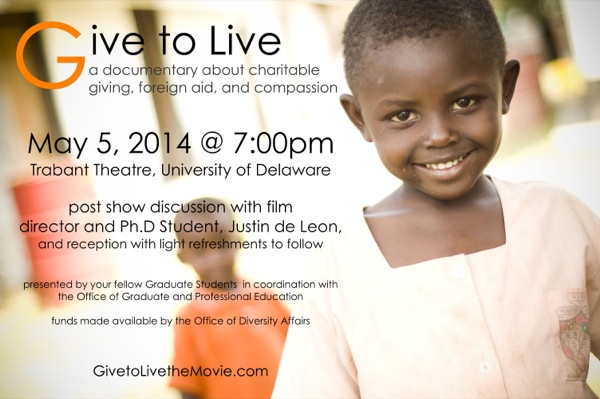 May 5: 'Give to Live' screening
Grad student-produced documentary puts focus on charitable giving, compassion
4:33 p.m., April 29, 2014--The University of Delaware Graduate Diversity Working Group will present the documentary film Give to Live at 7 p.m., Monday, May 5, in the Trabant University Center Theatre.
Give to Live, directed by UD doctoral candidate Justin Leon, explores charitable giving and foreign aid and the impact it has in Africa. The film examines the psychological effects of giving and receiving, the economic impact of charity and foreign aid, and the social effect of compassion.
June 5: Blue Hen 5K
University of Delaware graduates planning to attend Alumni Weekend are encouraged to register for the annual Blue Hen 5K walk and run, which will be held Sunday morning, June 5.
June 6-9: Food and culture series
The 20th annual June Lecture Series at the Osher Lifelong Learning Institute at UD in Wilmington will be held June 6-9. Titled 'June a la Carte,' this year's program focuses on great political documents, feminism, world politics and a Newark cuisine sampler.
Filmed in the United States, Kenya and Tanzania, the film follows the efforts of Americans and Africans struggling to address injustice and explores controversies regarding providing aid to Africa.
The filmmakers have many goals -- to foster critical conversation and thoughtful action, as well as engage and inspire. They said they hope that the film will encourage audiences to analyze barriers to giving and to rethink the means of how aid is carried out.
The event is free and open to the public.
There will be a question-and-answer session with the filmmakers following the documentary, with light refreshments available in the lobby.
The Graduate Diversity Working Group is sponsored by the Office of Graduate and Professional Education. It includes representatives from numerous graduate student organizations and is tasked with enhancing diversity and collaboration among graduate students.  
Graduate students are often intensely focused on their studies, and have both limited time and opportunities to interact with other graduate students on campus. This group aims to create programs that bring students together from across the University and promote awareness of the broad range of cultures and viewpoints represented at UD.
To date, the group has organized a Trivia Night at the Speakeasy, a graduate student and faculty lounge located at 44 Kent Way – the home of UD's global and graduate communities -- and "Rep Your Culture," an event promoting cross-culture  conversations and experiences. 
Watch a trailer of the documentary here.