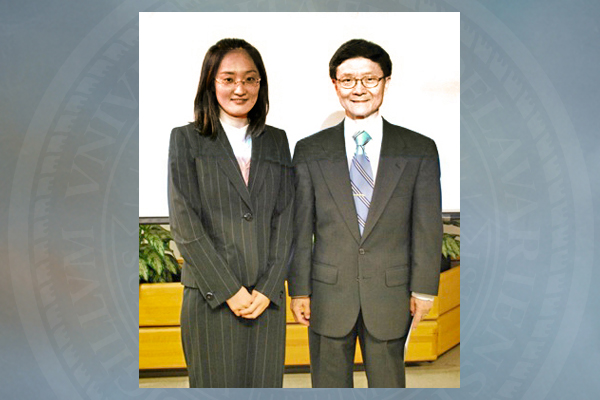 Doctoral Dissertation Award
Visiting engineering student wins national award in China
11:58 a.m., April 21, 2014--Limin Gao, a visiting doctoral student at the University of Delaware from 2007-10, received the 2013 Top 100 National Excellent Doctoral Dissertation Award in China.
Gao came to UD from the Beijing University of Aeronautics and Astronautics, now known as Beihang University, where Tsu-Wei Chou, Pierre S. du Pont Chair of Engineering at UD, has been an honorary research professor since 1994. 
National Medal of Science
President Barack Obama recently presented the National Medal of Science to University of Delaware alumnus Rakesh Jain.
Warren Award
Rosalind Johnson, assistant dean for student success in the NUCLEUS Program in UD's College of Arts and Sciences, was presented the John Warren Excellence in Leadership and Service Award during a May 26 ceremony.
"Prof. Chou is one of the top 100 materials scientists of the decade," Gao says, "and CCM (UD's Center for Composite Materials) is an internationally recognized center of excellence in composites processing, characterization, analysis and engineering. That is why I came to UD."
Chou served as the UD adviser on her dissertation research, which focused on the use of carbon nanotubes for damage sensing in composite materials. At UD, Gao worked with Chou's research group in the Department of Mechanical Engineering and the Center for Composite Materials.
In her dissertation, a novel health monitoring approach based on an electrically conductive carbon nanotube percolation network was established to study damage accumulation in fiber-reinforced composites. 
"The research demonstrates the feasibility and benefits of electrical resistance measurements in the sensing of micro-scale damage for fiber composites using carbon nanotubes and offers the potential for in-service health monitoring of composite structures," Chou says. 
Gao's three-year visit to the U.S. was funded by the China Scholarship Council under a then newly initiated joint Ph.D. program.
"The scholarship was very competitive, and she was extremely capable," Chou says.
Gao's work has appeared in top journals, including Advanced Functional Materials, Carbon, and Composites Science and Technology. 
"Dr. Chou has greatly enriched my perspective on nanotube composites," Gao says. "Without his guidance, encouragement, support, and patience throughout the course of my Ph.D. work, I would not have won this award. UD offered me a unique research platform to complete my Ph.D. research."
About the award
The National Excellent Doctoral Dissertation of the People's Republic of China is granted by the Ministry of Education of China and the Academic Degrees Committee of the State Council. The awarded is evaluated every year, and no more than 100 dissertations will be granted. 
The nominees are recommended by the universities, primary selected by the province academic degrees committee and reexamined by the Ministry of Education. The evaluation criteria include significance, originality and contributions of the research.
The winner of the award also receives a five-year research grant from the Ministry of Education of China to continue the work.
Article by Diane Kukich
Photo courtesy of Tsu-Wei Chou