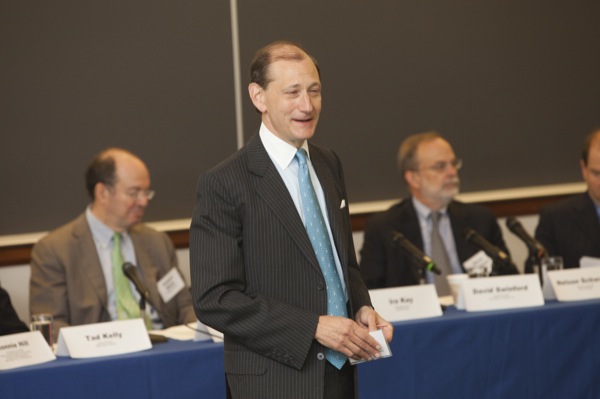 Oct. 11: Weinberg Center panel
Corporate governance experts to discuss board, shareholder engagement
10:34 a.m., Sept. 7, 2012--The University of Delaware's John L. Weinberg Center for Corporate Governance will present a panel discussion titled "Director-Shareholder Engagement: Limits and Possibilities" from 9:30-11:30 a.m., Thursday, Oct. 11, in the Gore Recital Hall of the Roselle Center for the Arts.
Director-shareholder engagement is a topic that has been increasingly receiving attention in the U.S., according to Charles M. Elson, Edgar S. Woolard, Jr., Chair of Corporate Governance and director of the center, who will moderate the panel.
June 5: Blue Hen 5K
University of Delaware graduates planning to attend Alumni Weekend are encouraged to register for the annual Blue Hen 5K walk and run, which will be held Sunday morning, June 5.
June 6-9: Food and culture series
The 20th annual June Lecture Series at the Osher Lifelong Learning Institute at UD in Wilmington will be held June 6-9. Titled 'June a la Carte,' this year's program focuses on great political documents, feminism, world politics and a Newark cuisine sampler.
Many governance organizations and experts have been discussing the topic in an attempt to highlight the issues and challenges that have been expressed by the various constituencies including the directors, institutional shareholders, activist shareholders, corporate management, regulators and lawyers.
While the constituencies do not always agree on the potential solutions, Elson said, many agree that the time is ripe for a continuing and fruitful dialogue.
The panelists include: 
Donna Anderson, vice president and corporate governance specialist, T. Rowe Price;
Glenn Booraem, principal at Vanguard and controller, Vanguard Funds;
Peter Gleason, managing director and CFO, National Association of Corporate Directors;
Deborah Gilshan, corporate governance counsel, Railpen Investments;
Jeremy Goldstein, partner, executive compensation and benefits, Wachtell, Lipton, Rosen and Katz;
Jon Hanson, founder and chairman, The Hampshire Companies;
Catherine Jackson, corporate governance adviser, PGGM Investments;
Floyd Norris, journalist, The New York Times;
Henry Ridgely, justice, Supreme Court of Delaware;
Sarah Teslik, senior vice president, policy and governance, Apache Corp.; and
Marc Rome, vice president for corporate governance, Chesapeake Energy Corp.
Because space is limited, anyone who plans to attend should RSVP to Louisa Cresson at lcresson@udel.edu no later than Wednesday, Oct. 3.
Photo by Ambre Alexander