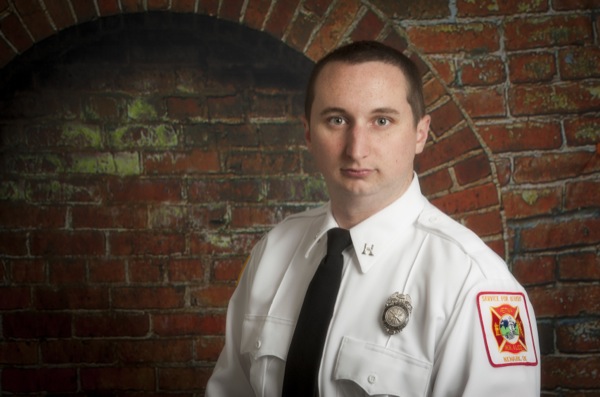 Hero recognized
UD's Cavanaugh receives Delaware Heroic Firefighter of Year Award
2:15 p.m., Sept. 25, 2012--Andrew Cavanaugh, a fire prevention technician in the University of Delaware's Department of Environmental Health and Safety, was recently honored with the Delaware Heroic Firefighter of the Year Award.
Given by the Delaware State Fire Chiefs Association, the award was presented to Cavanaugh during a meeting of the organization Sept. 13 at the Cheswold (Del.) Volunteer Fire Company. 
National Medal of Science
President Barack Obama recently presented the National Medal of Science to University of Delaware alumnus Rakesh Jain.
Warren Award
Rosalind Johnson, assistant dean for student success in the NUCLEUS Program in UD's College of Arts and Sciences, was presented the John Warren Excellence in Leadership and Service Award during a May 26 ceremony.
The award recognizes Cavanaugh's actions in assisting a firefighter from Aetna Hose, Hook and Ladder Company who had fallen through the floor while fighting a blaze in a home in Covered Bridge Farms, north of Newark. 
"I was working on campus, and saw an alarm and followed Engine 95, the first Aetna vehicle to arrive at the scene," Cavanaugh, a volunteer member of the Newark fire company, said. "After putting on my equipment, which includes a self-contained breathing apparatus, I entered the house, following the hose line, and discovered the firefighter in distress. The firefighter had fallen into the basement when the floor collapsed, losing his helmet and radio."
Cavanaugh, who also works as firefighter for the city of Wilmington, appraised the situation and exited the smoke-filled building to get an attic-ladder off Engine 95. 
"Firefighter in distress is something that you never want to hear, and it can be a scary situation," Cavanaugh said. "I just reacted to the situation and all of my training kicked in." 
The good news, Cavanaugh said, was that even though the firefighter in distress had fallen through the floor, he was standing and still had control of the hose nozzle.
"We went back in with the attic ladder and helped him to climb out and exit the building," Cavanaugh said. "He was evaluated at the scene by EMTs and was taken to the Christiana Care's Emergency Department for treatment of a minor burn on one leg." 
While the injured firefighter was on his way for further treatment and evaluation, Cavanaugh remained on the scene assisting fellow firefighters. 
"Once you're through the worst part, you just collect yourself for a moment and say let's go finish this," Cavanaugh said. "I attribute my thinking and my actions to my training, and to the great mentors I have had." 
Cavanaugh, who started his firefighting career with Mill Creek Fire Company in 2005, joined Aetna two years later when he began working at UD.
Also a former volunteer with Goodwill Fire Company in New Castle, Cavanaugh follows a family tradition that includes a father in the Wilmington Fire Department since 1985, and a grandfather who was named Heroic Firefighter of the Year in 1959.
"I was working at a part-time job, and I thought, 'Why can't I do what my dad did,'" Cavanaugh said. "I decided to make firefighting a career. It's been a way of life ever since."
Article by Jerry Rhodes
Photo by Kathy F. Atkinson