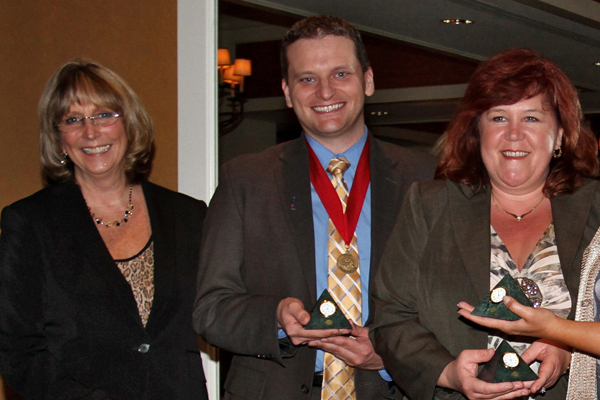 Nursing honors
Doctoral student in nursing science receives national fellowship
11:33 a.m., Sept. 18, 2012--Ronald Castaldo, a second-year doctoral student in the Nursing Science Program at the University of Delaware, has received a fellowship from the American Association of Nurse Anesthetists (AANA) Foundation.
The fellowship is designed to cultivate the development of leaders within the nurse anesthesia specialty who are currently engaged in doctoral studies. The program financially supports certified registered nurse anesthetists (CRNAs) earning doctoral degrees while conducting research to advance nurse anesthesia.
National Medal of Science
President Barack Obama recently presented the National Medal of Science to University of Delaware alumnus Rakesh Jain.
Warren Award
Rosalind Johnson, assistant dean for student success in the NUCLEUS Program in UD's College of Arts and Sciences, was presented the John Warren Excellence in Leadership and Service Award during a May 26 ceremony.
Castaldo was selected for the fellowship, which includes a $10,000 monetary award, for his strong commitment to research and his regional and statewide leadership. He was among nine recipients honored by the AANA at an awards and recognition dinner in San Francisco on Aug. 6. 
Castaldo's doctoral research is aimed at uncovering the regional barriers to, and benefits of, implementing a consistent model of education, licensure, accreditation, and certification for Advanced Practice Registered Nurses (APRNs). "I chose to conduct research in an area centered on supporting the APRN workforce, since they are a vital part of the solution to the health care crisis in the United States," he says.
Bethany Hall-Long, professor in the School of Nursing and Castaldo's adviser and research mentor, describes him as "a leader among CRNAs in Delaware and the Mid-Atlantic region."
"He demonstrates a strong commitment to nurse anesthesia and has a clear vision to develop a strong program of research to impact the practice of CRNAs and health policy outcomes across our nation," she said. "The faculty at UD are pleased he was selected to receive this national award."
About Ronald Castaldo 
Ronald Castaldo earned undergraduate degrees from UD, majoring in biological sciences, liberal studies and nursing, as well as a master's degree from Columbia University and an MBA from Delaware State University. 
Castaldo is a CRNA and has worked at Anesthesia Services of the Christiana Care Health System since 2002. Castaldo has served on the board of directors for Region 6 of AANA, and he is currently president of the Delaware Association of Nurse Anesthetists.
About the American Association of Nurse Anesthetists Foundation
The AANA Foundation, established in 1981, is a charitable organization devoted to anesthesia research, education, and development.  It is located in Park Ridge, Ill.
Article by Diane Kukich