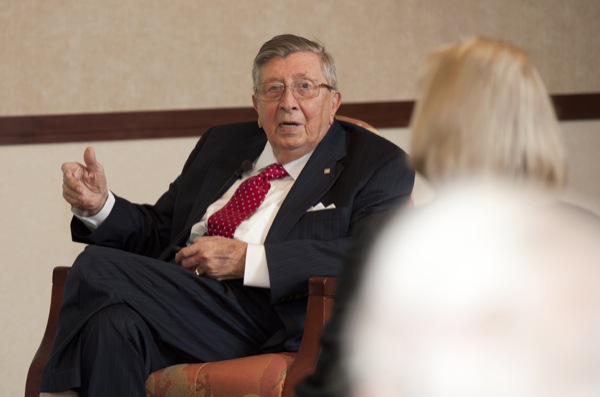 Solar pioneer honored
UD's Böer receives honorary doctorate from German research institute
10:12 a.m., Sept. 26, 2012--Karl W. Böer, Distinguished Professor Emeritus of Physics and Solar Energy at the University of Delaware, has been awarded an honorary doctorate in natural sciences from the Technische Universitat Berlin (TU) (Berlin Institute of Technology). 
With roots extending to 1770, TU has nearly 30,000 students, awards nearly 500 doctoral degrees annually and counts a number of Nobel Laureates among its faculty and alumni. 
National Medal of Science
President Barack Obama recently presented the National Medal of Science to University of Delaware alumnus Rakesh Jain.
Warren Award
Rosalind Johnson, assistant dean for student success in the NUCLEUS Program in UD's College of Arts and Sciences, was presented the John Warren Excellence in Leadership and Service Award during a May 26 ceremony.
In a letter to Robert Birkmire, director of UD's Institute of Energy Conversion, which Böer founded in 1972, Dieter Bimberg, professor and executive director of TU's Center of NanoPhotonics, noted that Böer is "world renowned for his contributions to the optical and electrical properties and crystal structure of semiconductors for thin film solar cells."
Bimberg said that Böer's honorary doctorate was "a very rare event" for the science faculty at the university and has occurred only three times in the past 20 years, with the last recipient Zhores Alferov, a Nobel Laureate from the Ioffe Institute of the Russian Academy of Sciences. 
"Karl is another eminent contributor to your prestigious University, which is recognized on the East Coast as one of the handful of top universities," Bimberg wrote. 
Böer holds 28 patents in solid-state technology. He is the author of nine books and the co-author of 12 books on solar energy conversion and solid-state physics. He also has written more than 300 articles and edited several scientific textbooks and journals.
In 1987, UD established the Karl W. Böer Solar Energy Medal of Merit in his honor. Former President Jimmy Carter was the first recipient of the award in 1993, recognized for his work in focusing world attention on solar energy. Honorees receive a bronze medal and a $50,000 cash prize.
The Karl Wolfgang Böer Papers, 1945–2003, housed in the University of Delaware Library's Special Collections, further document the life work and professional career of this German-American physicist, inventor, university professor and solar energy pioneer.