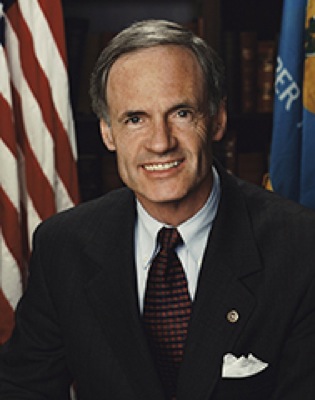 Honoring the Constitution
Sept. 14: Sen. Tom Carper to present Soles Lecture on Constitution, Citizenship
8:55 p.m., Sept. 4, 2012--In celebration of National Constitution Day, the University of Delaware will present the James R. Soles Lecture on the Constitution and Citizenship on Friday, Sept. 14, with an address by U.S. Sen. Thomas Carper. 
The free public event will be held at 5 p.m., Sept. 14, in the Gore Recital Hall of the Roselle Center for the Arts on the campus. A reception will be held after the lecture in the lobby. 
June 5: Blue Hen 5K
University of Delaware graduates planning to attend Alumni Weekend are encouraged to register for the annual Blue Hen 5K walk and run, which will be held Sunday morning, June 5.
June 6-9: Food and culture series
The 20th annual June Lecture Series at the Osher Lifelong Learning Institute at UD in Wilmington will be held June 6-9. Titled 'June a la Carte,' this year's program focuses on great political documents, feminism, world politics and a Newark cuisine sampler.
The Soles Lecture honors the late Dr. James R. Soles, who was a member of the University's political science and international relations faculty for more than 34 years. The annual lecture also marks the anniversary of the day that the U.S. Constitution was signed in Philadelphia, Sept. 17, 1787. U.S. Vice President Joe Biden, a UD alumnus, delivered the inaugural Soles Lecture in 2011. 
Dr. Soles received the University's Excellence in Teaching Award twice and its Excellence in Advising Award, as well as the University's Medal of Distinction.  Dr. Soles, who died Oct. 29, 2010, received many awards and recognitions in his distinguished career, but he is still best remembered for his personal dedication to teaching and to his students.  
Tom Carper has served as Delaware's state treasurer, United States congressman, governor and since 2000, one of Delaware's two United States senators.  His first political experience came in 1974 when he, while a graduate student at the University of Delaware, served as the treasurer of the James Soles for Congress Committee. From that time on, Dr. Soles served as a mentor and close adviser of the senator.