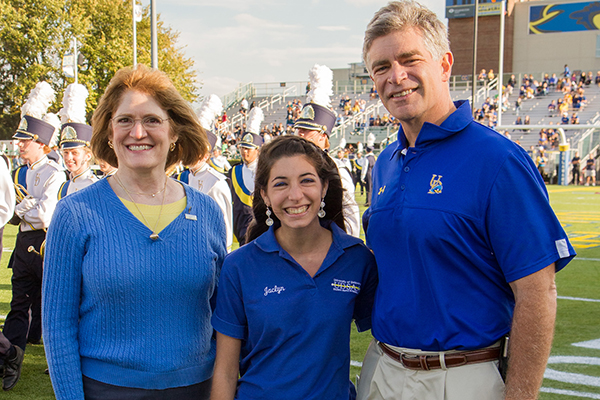 Spirit award
UD senior Weisberg honored with T. Muncy Keith Spirit Award
1:13 p.m., Oct. 23, 2012--Jaclyn (Jackie) Weisberg, a senior communication major from West Nyack, N.Y., and president of the Student Alumni Ambassadors, was awarded the University of Delaware Alumni Association's T. Muncy Keith Spirit Award on Saturday, Oct. 6.
Weisberg was presented the award by University President Patrick Harker and UD Alumni Association President Darelle Lake Riabov, a 1973 alumna, at a ceremony held during the UD home football game against the University of Maine.
National Medal of Science
President Barack Obama recently presented the National Medal of Science to University of Delaware alumnus Rakesh Jain.
Warren Award
Rosalind Johnson, assistant dean for student success in the NUCLEUS Program in UD's College of Arts and Sciences, was presented the John Warren Excellence in Leadership and Service Award during a May 26 ceremony.
The UDAA T. Muncy Keith Spirit Award is a $1,000 scholarship presented each fall to a Student Alumni Ambassador who has made or has the potential to make the greatest contribution to the organization. 
Student Alumni Ambassadors are undergraduate students who are selected for their outstanding achievements and leadership on campus.  Ambassadors encourage school spirit, foster connections between alumni and students, support the Office of Alumni Relations, serve as advisory board members to the University community and aspire to be active UD alumni upon graduation.
"I could not think of a better way to culminate my time as an ambassador than by receiving the T. Muncy Keith Award," a grateful Weisberg said after receiving the honor.
"Being a Student Alumni Ambassador has given me the chance to meet so many alumni and hear about other people's experiences at UD," Weisberg continued. "Upon graduation, I aspire to transition into the role of an active alumna and bestow all that I can to the University that has given me so much."
Weisberg was nominated for the award by Christine Scheirer, a 2009 alumna, who wrote: "As a freshman, Jackie joined the program and quickly became involved. At that time, the program was going through a transition with changing Alumni Relations staff members. Jackie was always willing to go above and beyond the call of duty with regards to exchanging new ideas for the program and attending various events."
To learn more about the award, the UD Alumni Association and Student Alumni Ambassadors visit www.UDconnection.com.