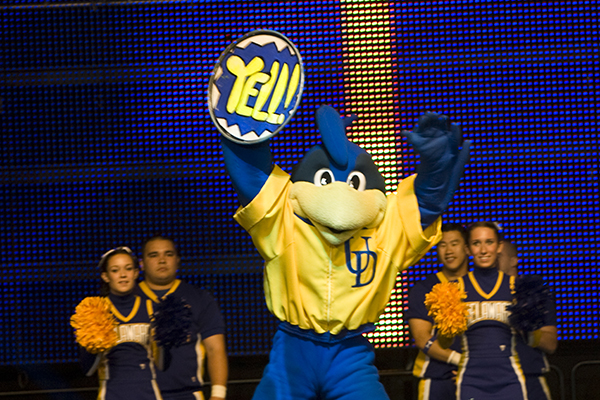 Oct. 15: Monday Madness
Monday Madness Pep Rally will open UD Homecoming 2012
1:24 p.m., Oct. 12, 2012--The University of Delaware will kick off Homecoming 2012 with a Monday Madness Pep Rally at 7 p.m., Monday, Oct. 15, at the Independence turf field on the Laird Campus.
Those who attend are encouraged to wear Delaware Blue and Gold to show their Fightin' Blue Hen spirit.
June 5: Blue Hen 5K
University of Delaware graduates planning to attend Alumni Weekend are encouraged to register for the annual Blue Hen 5K walk and run, which will be held Sunday morning, June 5.
June 6-9: Food and culture series
The 20th annual June Lecture Series at the Osher Lifelong Learning Institute at UD in Wilmington will be held June 6-9. Titled 'June a la Carte,' this year's program focuses on great political documents, feminism, world politics and a Newark cuisine sampler.
The event is free and open to the public. In the event of rain, the rally will be held in Clayton Hall.
There will be snacks, games and a larger than life human interlocking UD, which will set the standard as officials hope to break the record for the number of people in the UD each year the pep rally is held.
At the pep rally will be a Battle of the Blue Hens competition for student groups. Upon arriving at the rally, find the Student Homecoming Committee table and fill out a card with the student group name. At the end of each event, cards will be tallied and the top groups will be listed online. Prizes given to the groups at the end of the week are as follows: first place, $500; second place, $250; and third place, $100. There will be a random drawing Dare to Share prize for a $50 gift certificate to the UD Bookstore.
Master of ceremonies for the pep rally will be Scott Klatzkin, a 2007 UD graduate and the new radio play-by-play announcer for the Blue Hens football and men's basketball teams. 
The rally will feature appearances by coaches and student-athletes from the following teams: baseball, field hockey, football, men's and women's swimming and diving, men's and women's tennis, men's and women's basketball, men's and women's lacrosse, softball, track and field, volleyball, women's golf, women's rowing and women's soccer.
Other special guests include YoUDee, the UD dance team and the cheerleaders. There will be short remarks by football head coach K.C. Keeler.
Learn about all the UD Homecoming events throughout the week at the UD Homecoming 2012 website and stay up-to-date via Facebook.
Article by Melissa Cox
Photo by Ambre Alexander