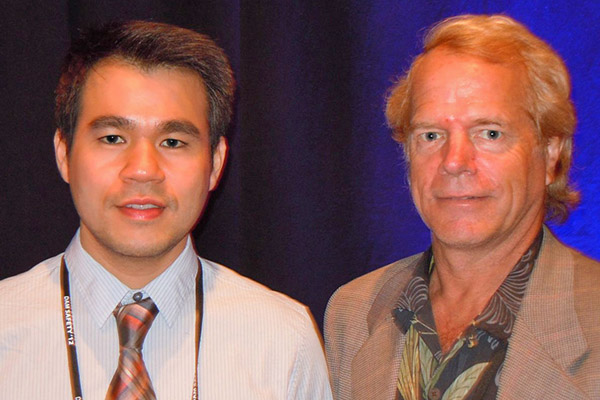 Improving levees
UD student earns national recognition for novel levee assessment approach
8:06 a.m., Oct. 16, 2012--University of Delaware doctoral candidate Sittinan Benjasupattananan has earned national recognition from the Association of State Dam Safety Officials (ASDSO) for a paper describing his novel method for modeling the flow of water in levee foundation soils.
Levees are earthen structures or embankments used to protect urban and rural property from floods, especially in low lying coastal areas. 
National Medal of Science
President Barack Obama recently presented the National Medal of Science to University of Delaware alumnus Rakesh Jain.
Warren Award
Rosalind Johnson, assistant dean for student success in the NUCLEUS Program in UD's College of Arts and Sciences, was presented the John Warren Excellence in Leadership and Service Award during a May 26 ceremony.
Over 10,000 miles of levees are currently in use in the United States, particularly in cities along the Mississippi and Sacramento rivers. In many areas, failure of even a single levee can lead to loss of life and economic damage. One grim example of this is the levee failure that occurred when Hurricane Katrina landed in New Orleans in 2005. 
According to the U.S. Army Corps of Engineers, a significant percentage of levee failures nationwide are due to excessively high water pressures in the levee foundation, which eventually lead to erosion of the foundation soil and formation of seepage "pipes."
In his ASDSO paper, Benjasupattananan describes the development of a unique analytical modeling approach that he believes can serve as a practical tool for engineers to simulate both two- and three-dimensional seepage behavior beneath levees.
When incorporated into a risk-based analysis approach, this new analytical model can help to mitigate the risks associated with levee infrastructure. 
Benjasupattananan's paper was one of three top winners selected for national recognition in the 2012 ASDSO student paper competition. As part of his award, Benjasupattananan presented his research at the 2012 Dam Safety annual conference in Denver, which was held from Sept. 16-21.
About Sittinan Benjasupattananan
Benjasupattananan earned his bachelor's and his master's degree in civil engineering from King Mongkut's Institute of Technology in Bangkok, Thailand. While in Thailand, he was a civil engineer in the flood protection division of the Public Works Department in the Ministry of the Interior. There he worked as a designer and inspector on several flood protection projects.
Benjasupattananan is currently a doctoral student in the Department of Civil and Environmental Engineering at UD.  Working under the advisement of Christopher Meehan, Bentley Systems Incorporated Chair of Civil Engineering, his research focuses on the reliability-based design of geotechnical engineering structures, the design and performance assessment of levee systems, and the design of earth retaining structures and other geosynthetic-reinforced earth structures.
Article by Karen B. Roberts