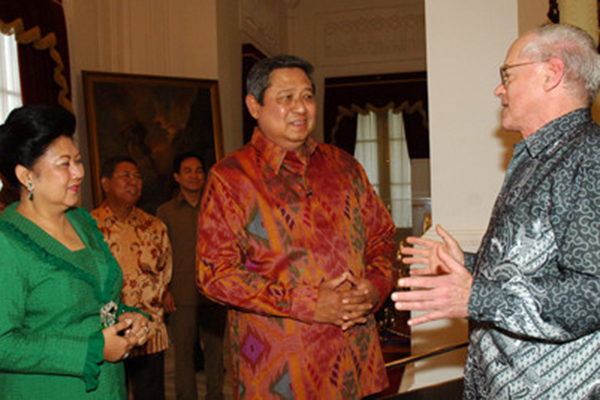 Oct. 11: 'Is Indonesia Rising?'
Stanford professor to discuss developments in Indonesia
8:45 a.m., Oct. 8, 2012--Donald K. Emmerson of Stanford University will give a talk titled "Is Indonesia Rising? Hype, Fact and the Future of Asia's Third Giant" at 4 p.m., Thursday, Oct. 11, in 103 Gore Hall.
In addition, Emmerson also will present a smaller, informal talk on Islamic politics in Indonesia and Malaysia at 2 p.m. the same day in the Department of History conference room in Monroe Hall.
June 5: Blue Hen 5K
University of Delaware graduates planning to attend Alumni Weekend are encouraged to register for the annual Blue Hen 5K walk and run, which will be held Sunday morning, June 5.
June 6-9: Food and culture series
The 20th annual June Lecture Series at the Osher Lifelong Learning Institute at UD in Wilmington will be held June 6-9. Titled 'June a la Carte,' this year's program focuses on great political documents, feminism, world politics and a Newark cuisine sampler.
Emmerson is director of the Southeast Asia Forum at the Shorenstein Asia-Pacific Research Center at Stanford University. His research has focused on the politics of development and democratization in Indonesia, political Islam in Indonesia and Southeast Asia, U.S.-Southeast Asia relations and the Association of Southeast Asian Nations.
He is an active analyst of current policy issues involving Asia. In 2010 the National Bureau of Asian Research and the Woodow Wilson International Center for Scholars awarded him a two-year research associateship given to "top scholars from across the United States" who "have successfully bridged the gap between the academy and policy."
In addition to his public and media commentary, Emmerson's recent publications include "Facts, Minds, and Formats: Scholarship and Political Change in Indonesia" in Indonesian Studies: The State of the Field (2013); "Is Indonesia Rising? It Depends" in Indonesia Rising (2012); "Southeast Asia: Minding the Gap between Democracy and Governance," Journal of Democracy (April 2012); An American Place at an Asian Table? Regionalism and Its Reasons (2011); Asian Regionalism and US Policy: The Case for Creative Adaptation (2010); "The Useful Diversity of 'Islamism'" and "Islamism: Pros, Cons, and Contexts" in Islamism: Conflicting Perspectives on Political Islam (2009); and "Crisis and Consensus: America and ASEAN in a New Global Context" in Refreshing U.S.-Thai Relations (2009).
Both talks are open to the public and are sponsored by UD's Asian Studies Program, Islamic Studies Program, the Center for Global and Area Studies, and the Department of Political Science and International Relations.
Photograph courtesy of Donald K. Emmerson