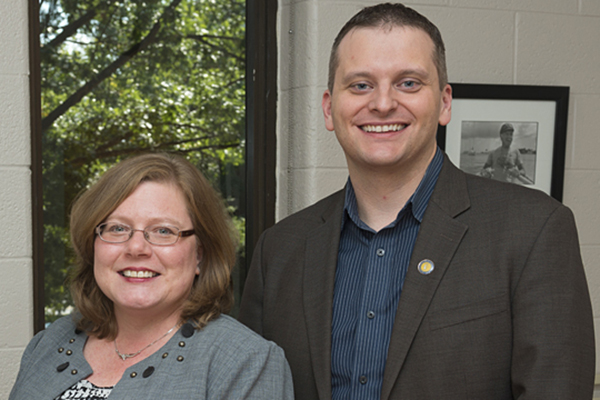 Nursing fellows
Two nursing science doctoral students honored as Virginia Lee Franklin Fellows
1:02 p.m., Oct. 23, 2012--Two doctoral students in the Nursing Science Program at the University of Delaware, Diane Bradley and Ronald Castaldo, have been named 2012-13 Virginia Lee Franklin Fellows. 
In the spirit of Virginia Lee Franklin's commitment to teaching, the trust provides fellowships to doctoral students whose long-term goals include employment as faculty in a university setting. This award not only perpetuates the development of nursing science but also prepares the next generation of nurse scientists and nurse educators.
National Medal of Science
President Barack Obama recently presented the National Medal of Science to University of Delaware alumnus Rakesh Jain.
Warren Award
Rosalind Johnson, assistant dean for student success in the NUCLEUS Program in UD's College of Arts and Sciences, was presented the John Warren Excellence in Leadership and Service Award during a May 26 ceremony.
Veronica Rempusheski, Jeanne K. Buxbaum Chair of Nursing Science and coordinator of the doctorate in Nursing Science Program, said, "The timeliness of this award is crucial to support full-time students attending UD's program and begin to fill the pending severe shortage of Ph.D.-prepared faculty in academia."
School of Nursing Director Kathleen Schell said, "We are grateful to the Virginia Lee Franklin Trust for their continued support of nursing students at all levels of education." Annually, in addition to the Ph.D. fellowship, a Virginia Lee Franklin Honors Award is given to an undergraduate student in the School of Nursing who excels in the care of neurologically compromised patients.
Bradley earned an undergraduate degree from West Virginia University (WVU), majoring in nursing, and two master's degrees – one from WVU in sport and exercise studies, the other in nursing from Walden University. 
Bradley held positions as nursing instructor at Delaware Technical Community College and as adjunct instructor at Wesley College and Towson University. In 2009, she received the National League for Nursing Health Information Technology Scholars Program award.
In her first year of the doctoral program, Bradley is proposing research on depression screening for low- income older adults using computer technology. Her research on the prevalence of depressive symptoms and related factors in older adults will impact recommendations for senior housing facilities. Barbara Harrison, Bradley's research mentor, noted, "Diane is passionate about her research with older adults and will be an excellent researcher and educator." 
Castaldo, a second-year doctoral student and recent recipient of a fellowship from the American Association of Nurse Anesthetists Foundation, received undergraduate degrees from UD in biological sciences, liberal studies, and nursing. He earned a master's degree from Columbia University and an MBA from Delaware State University. 
Castaldo, also president of the Delaware Association of Nurse Anesthetists, chose to investigate implementing a consensus model of education, licensure, accreditation, and certification for Advanced Practice Registered Nurses (APRNs) in the region. His research will reveal the barriers and benefits of such a model, which will inform future decisions about clinical and policy regional conformity.  
"Ron has a clear vision to develop a strong program of research that will impact the practice of APRNs and health policy outcomes across our nation," said Bethany Hall-Long, adviser and research mentor for Castaldo. 
About Virginia Lee Franklin
Virginia Lee Franklin earned a master's degree in nursing from Emory University in 1957 and was assistant professor in the UD School of Nursing (then called the College of Nursing) from 1964 to 1979. To honor her after her death in 1981, her parents, D. Murray and Katherine Franklin, created the Virginia Lee Franklin Memorial Trust.