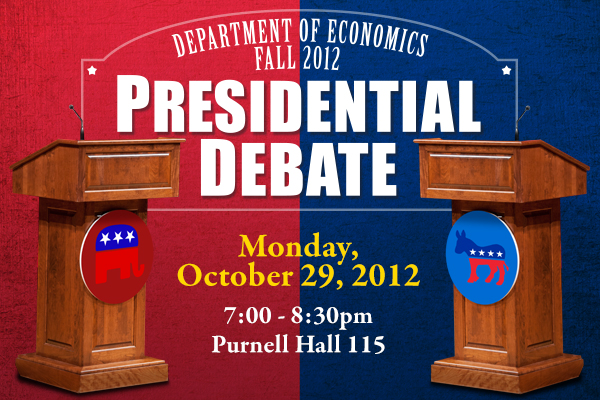 Nov. 5: Economics 'presidential debate'
UD's Department of Economics to host presidential policy debate
8:12 a.m., Oct. 31, 2012--The Department of Economics in the University of Delaware's Alfred Lerner College of Business and Economics will present a public debate, "Obama vs. Romney: The Economic Policies of the 2012 Campaign," from 7:30-9 p.m., Monday, Nov. 5, in 115 Purnell Hall.
The department sponsors a similar debate every four years in conjunction with the presidential elections.
June 5: Blue Hen 5K
University of Delaware graduates planning to attend Alumni Weekend are encouraged to register for the annual Blue Hen 5K walk and run, which will be held Sunday morning, June 5.
June 6-9: Food and culture series
The 20th annual June Lecture Series at the Osher Lifelong Learning Institute at UD in Wilmington will be held June 6-9. Titled 'June a la Carte,' this year's program focuses on great political documents, feminism, world politics and a Newark cuisine sampler.
Six UD economics professors will debate major economics issues in the forefront of the presidential campaign. The issues cover hot topics such as economic recovery, job creation, government deficits and debt, tax policy, health care, environment, energy and regulation.
Michael Arnold, associate professor and director of UD's Honors Program, Saul Hoffman, professor, and Larry Seidman, Chaplin Tyler Professor of Economics, will represent the economic views of Democratic President Barack Obama.
Representing the views of Republican challenger Mitt Romney will be Burt Abrams, professor, Stacie Beck, associate professor, and Will Harris, associate professor.
Jim Butkiewicz, chair of the department, will moderate the debate.
Both teams will first present their respective candidates' views on the aforementioned economic topics and will then answer questions from the audience. 
The event is free and open to the public.
Originally scheduled Oct. 29, the debate was moved to Nov. 5 because of the weather emergency caused by Hurricane Sandy.
Article by Danielle DeVita