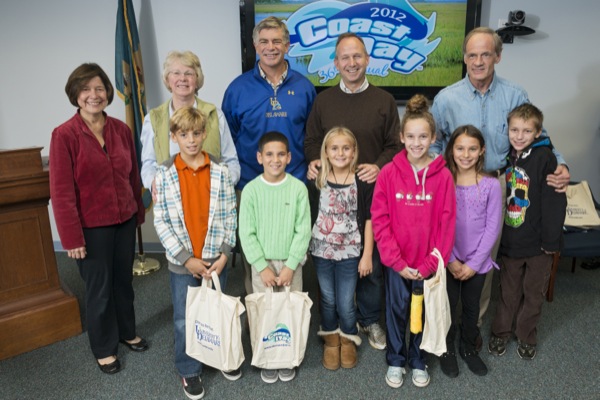 Students cited
Coast Day 2012 essay contest winners recognized
8:39 a.m., Oct. 15, 2012--A creative essay written from the point-of-view of a dolphin took the top prize in the 2012 Coast Day Fifth-Grade Essay Contest.
Sky Dunmyer, a student in Amanda Archambault's class at Shields Elementary School in Lewes, was awarded first place and recognized along with fellow winners during a ceremony at the University of Delaware event, held on Oct. 7 at the Hugh R. Sharp Campus.
National Medal of Science
President Barack Obama recently presented the National Medal of Science to University of Delaware alumnus Rakesh Jain.
Warren Award
Rosalind Johnson, assistant dean for student success in the NUCLEUS Program in UD's College of Arts and Sciences, was presented the John Warren Excellence in Leadership and Service Award during a May 26 ceremony.
"It feels exciting and surprising," Dunmyer said after the ceremony. "I wasn't expecting it."
Coast Day, sponsored by UD's College of Earth, Ocean, and Environment (CEOE) and the Delaware Sea Grant College Program, highlights the importance of the state's coastal resources.
Students were asked to reflect on this year's theme, "Checking in on Our Coast," identify their favorite aquatic place in Delaware and describe how they are helping preserve that environment for future generations.
In her essay, Dunmyer walked in the shoes – or swam in the wake, rather – of an imaginary bottlenose dolphin named Jeffrey that inhabits Delaware's coastal waters. She said she prefers writing fiction stories over nonfiction, and she thought about how pollution affects dolphins as inspiration.
Taking second place was Joshua Miller, a student in Marilyn Vallejo's class at St. Ann School in Wilmington, and third place went to his classmate, Oliver Conaty. Three honorable mention essayists also were recognized: Keeley Dugan of St. Ann School; Veronica Dougherty of St. Ann School; and Malakai McCarty of East Millsboro Elementary School. Their teachers are Marilyn Vallejo and Tonya Mock.
All winners were congratulated by Gov. Jack Markell, U.S. Sen. Tom Carper, UD President Patrick Harker and CEOE Dean Nancy Targett. To read all six winning essays, visit the Coast Day essay contest webpage.
For more information about Coast Day, which will take place next year on Sunday, Oct. 6, visit www.decoastday.org or call 302-831-8083.
Fifth-grade essay contest winner

Sky Dunmyer
Shields Elementary School
Teacher: Amanda Archambault
Hello, my name is Jeffrey. I come up to the surface to take a breath, then 8 to 10 minutes later, I do the same. But imagine if I could not take one of those breaths! The ocean provides 50 percent of the air we breathe from phytoplankton. That means if you take 8 breaths, 4 of them come from the ocean. Did I mention that I'm a bottlenose dolphin, an aquatic mammal? My relatives live all around the globe, but my habitat is the coastal waters of the Atlantic Ocean off the coast of Delaware.
My human friend Sky's favorite place on the Delaware coast is Dewey Beach because the waves are perfect for her to boogie board. I love it because I get to watch people play all day. Dewey Beach is a great place to have fun – fishing, surfing, swimming, or just relaxing. Sky's dog really loves to play on Dewey Beach and Sky always cleans up after him, which is important to help keep the beach and ocean clean.
I try to tell everybody I can about preserving the Delaware coast, my home. My relatives down in Florida experienced an oil spill last year and it was awful. I would hate for anything like that to happen in Delaware. One way you can help prevent oil spills from happening in the future is by voting to elect people that care about the ocean.
I'm worried about my home. My food population keeps getting smaller because of pollution and overfishing. Soon there will be no more fish for me to eat. But it doesn't just matter to me, it is important to you humans, too. Fish is a source of protein for over a billion people. Responsible fishing will help.
I am also worried about the runoff from homes and farms. A lot of people put all sorts of fertilizer on their lawns and garden to make it look beautiful, but if you grow plants naturally, it might even turn out prettier! Do a few weeds really matter? So please use less chemicals and buy fruits and vegetables that are grown sustainably.
I hope you can help me preserve my habitat, and remember these are easy tasks that you can do. I promise you it's for a good cause! Will you help Sky and me protect the ocean?
Article by Teresa Messmore
Photo by Evan Krape