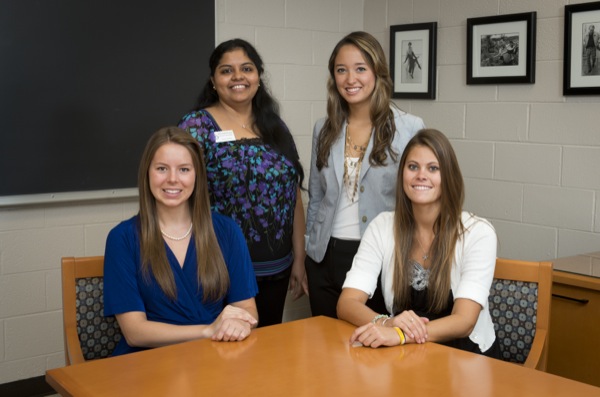 New Buxbaum Scholars
Four UD nursing students named Jeanne K. Buxbaum Scholars
9:35 a.m., Oct. 5, 2012--Sangeetha Karunanithi, Danielle Jacoby, Rita-Rae Schaeffer and Delaney White have been named Jeanne K. Buxbaum Scholars in the University of Delaware's School of Nursing for the 2012-13 academic year.  
Buxbaum is the benefactor of the assistantships and scholarships, which are awarded to graduate and undergraduate nursing students who demonstrate academic excellence and a sincere interest in older adults or persons experiencing sensory deprivation, particularly macular degeneration.
National Medal of Science
President Barack Obama recently presented the National Medal of Science to University of Delaware alumnus Rakesh Jain.
Warren Award
Rosalind Johnson, assistant dean for student success in the NUCLEUS Program in UD's College of Arts and Sciences, was presented the John Warren Excellence in Leadership and Service Award during a May 26 ceremony.
Full-time graduate students work as research assistants with Veronica Rempusheski, Jeanne K. Buxbaum Chair of Nursing, to broaden their research experience in aging and receive hands-on experience in proposed and funded projects and activities. Undergraduate scholarship recipients can elect to work with Rempusheski and are mentored in the research process.
Sangeetha Karunanithi, a graduate student whose native country is India, developed a respect for older adults at an early age when she helped care for her grandparents and great-grandparents, all of whom lived together in an extended family household.  Later, as a visiting nurse, she encountered many elderly in India's small towns and villages who suffered from sensory deprivation problems such as hearing loss, poor eyesight, and severe neuropathies. 
Since immigrating to the U.S. six years ago, Karunanithi has continued her nursing career, caring for patients who are mostly over age 65.  She credits her past and current experiences with motivating her to learn more about sensory deprivation in the elderly and to find ways to improve the quality of their lives. Her long-term goals are to pursue a doctorate, teach, and do research. 
"Sangeetha demonstrated her leadership potential in a recent community project, in which she led a group of fifth graders through exercises that simulate functional and sensory changes in aging – making it fun as well as educational," said Rempusheski.
Danielle Jacoby is a junior nursing student from Hockessin, Del.  Her decision to pursue a nursing career developed from her personal experience as a patient. When she was 17, she became gravely ill and was hospitalized and bed-ridden for three months.  It was because of the excellent care and compassion given by her nurses throughout the illness that Jacoby says she elected to pursue a career in nursing.
Since much of her illness derived from adverse reactions to medications, Jacoby is concerned about what she sees as the growing use of pharmaceutical drugs prescribed to treat the symptoms of illness, rather than the underlying cause. Her long-term goal is to help persons most vulnerable to overmedication and debilitating side effects, namely the elderly, to be more proactive about their own health care through proper nutrition, exercise, and preventative measures and to reduce their dependency on pharmaceutical drugs that may trigger side effects.
Rempusheski noted, "Danielle's passion for the elderly is palpable, drawing upon her empathic 'feeling like an old person' when she was ill, with a desire to make a difference in the quality of an elder's life."
Rita-Rae Schaeffer, who is from Claymont, Del., graduated from UD with a bachelor of science degree in exercise science in May 2012 and began the accelerated nursing program this fall – a 17-month journey that will earn her a bachelor of science in nursing (BSN) in winter 2014. 
Schaeffer's interest in older adults with sensory deprivation began when her grandmother was diagnosed with dementia. Her grandmother had been her childhood caregiver, and Schaeffer acknowledges her as one of the most influential persons in her life.
Schaeffer shared in her grandmother's care as her physical strength declined, as did her sight because of macular degeneration.  From those experiences, she decided that nursing would be a perfect career for her, one in which her compassion would be put to good use, along with the added knowledge and skills she would gain in a BSN program. Her long-term goal is to provide support to families and individuals suffering from dementia.
Rempusheski noted, "Rita-Rae's creativity, energy and enthusiasm about aging and the elderly were evident in a recent collaboration on a community simulation project, as she thoughtfully devised teaching strategies that were well-grounded in evidence.  She contributed to making learning about aging fun for fifth graders."
Delaney White, from Wilmington, Del., is a junior on the pre-medical track with a Spanish minor. Her interest in nursing and health care began with witnessing the dedication and devotion of nurses and medical professionals in the care of her grandmother during her rapid decline from advanced disease to the end of her life. White described an "exceptional relationship" with her strong, patient and loving grandmother and how observing her grandmother's death as a teenager had a powerful impact on her career goals. 
Subsequent experience as a dietary specialist at an assisted living facility developed White's interest in gerontology and recognition of the connection she felt with older adults.  Her goals are to become a geriatric nurse in a hospital setting and pursue a master's or doctoral degree in gerontology and a medical degree. 
"Delaney has a seemingly insatiable thirst for knowledge that is fed by her passion for gerontology and long-term goals for making a difference in health care of older adults," said Rempusheski. 
Karunanithi, Jacoby, Schaeffer and White join continuing Buxbaum Scholars Brittany Drazich and Kelly Leedy.
Photo by Kathy F. Atkinson