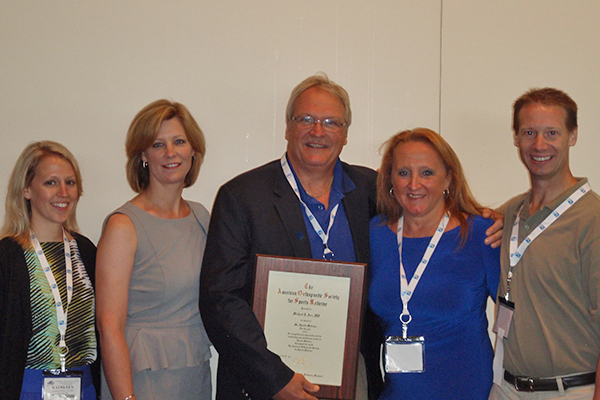 No Axe to grind
Clinical physical therapy professor named 'Mr. Sports Medicine'
11:32 a.m., Oct. 9, 2012--Michael J. Axe, M.D., of First State Orthopaedics received the 2012 Robert E. Leach "Mr. Sports Medicine Award" on July 14 at the annual meeting of the American Orthopaedic Society for Sports Medicine (AOSSM) in Baltimore. Axe is a clinical professor in the Department of Physical Therapy at the University of Delaware. 
Initiated in 1973, the award is presented annually to a sports orthopedic surgeon who has made significant contributions to the world of sports medicine. The honor includes a $5,000 donation to a charity of the recipient's choice as well as a 15-minute award presentation/recap of his or her career at the annual meeting.
National Medal of Science
President Barack Obama recently presented the National Medal of Science to University of Delaware alumnus Rakesh Jain.
Warren Award
Rosalind Johnson, assistant dean for student success in the NUCLEUS Program in UD's College of Arts and Sciences, was presented the John Warren Excellence in Leadership and Service Award during a May 26 ceremony.
Axe's tribute was delivered by Jo Hannafin, M.D., president elect of the AOSSM and a sports orthopedic surgeon at the Hospital for Special Surgery in New York City. The award is a closely held secret and a surprise to the nominee. Hannafin noted Axe's work at UD and contributions to physical therapy in her remarks.  
Lynn Snyder-Mackler, Alumni Distinguished Professor in the Department of Physical Therapy, and Tara Jo Manal, director of clinical services, represented the University at the ceremony.
"Dr. Axe's contribution to sports medicine is sustained and exemplary at the local, state, district, national and international levels," Snyder-Mackler says. "He's the quintessential team player; he exemplifies the 21st-century professional."
Tom Buchanan, George W. Laird Professor and director of the Delaware Rehabilitation Institute, credits Axe with being "more involved in research than any other full-time physician that I have known."
"Orthopedics is the greatest area of strength in UD's medical research, and much of that is due to Dr. Axe," Buchanan said. "Without his contributions, the orthopedics research at UD would be a far weaker enterprise. His contributions to the Delaware Rehabilitation Institute are enormous. We are very fortunate to have him work with us." Axe has been an investigator on more than $20 million in National Institutes of Health (NIH) grants at UD.
At the AOSSM meeting, Hannafin shared anecdotes and comments from colleagues whose lives Axe has touched over the past two decades.
One of those colleagues was Manal, who refers to Axe as "one of the great champions of physical therapy." 
"Dr. Axe values the team approach to care in sports medicine and integrates the therapist's diagnosis and opinion in deciding on the best path of a patient's care," she says. "He's a consumer of the literature and a proponent of the integration of research findings into clinical practice. His mantra is: How will this new information change what you do on Monday?"
Axe has also made significant contributions to the education of hundreds of physical therapists who are now practicing throughout the country. At UD, he has been course director for Medical Science II: Orthopedics and Musculoskeletal Imaging since 1990. He is a long-time supporter of the UD Physical Therapy Clinic, and he has also been a committee member for 12 doctoral students.
"For seven weeks every summer for the past 22 years, Dr. Axe has spent several evenings a week teaching our entry-level students," Snyder-Mackler says. "His course is outstanding — he brings in experts from every orthopedic subspecialty and coordinates the course with the concurrent orthopedic rehabilitation course."
Axe also teaches at the post-professional level as medical director of the UD Sports Physical Therapy Residency, and he contributes as a speaker at national and international meetings as well, focusing on return to play after shoulder and knee injury, weight lifting, and baseball.
About Michael Axe
Axe received his bachelor of science degree in biology in 1975 from Bucknell University and his M.D. from Thomas Jefferson Medical College in Philadelphia in 1979.
He completed an internship at Thomas Jefferson University and then a surgical residency in 1980 at the Medical Center of Delaware. He went on to do an orthopedic residency at the University of Pittsburgh from 1981-84 and then an orthopedic sports medicine fellowship at the Hughston Clinic in Georgia in 1984. He also completed another fellowship in orthopedic trauma at Harborview Hospital in Seattle in 1985. 
He currently serves as the director for the All Sports Clinic of Delaware at First State Orthopaedics, where he is also a founding partner. Axe also has many roles at the University of Delaware, including clinical professor, medical director for the UD Sports Physical Therapy Residency Program, and staff member for the Center for Biomedical Engineering Research.
Axe has been a medical director or consultant for numerous professional, college and high school teams in the area, serves as the chair of the Delaware Interscholastic Athletic Association Sports Medicine Advisory Committee and volunteers with the Boys and Girls Clubs of Delaware. During his more than 30 years in orthopedics, he has received numerous awards.
About AOSSM
The American Orthopaedic Society for Sports Medicine (AOSSM) is a world leader in sports medicine education, research, communication and fellowship, and includes national and international orthopedic sports medicine leaders. The society works closely with many other sports medicine specialists, including athletic trainers, physical therapists, family physicians, and others to improve the identification, prevention, treatment, and rehabilitation of sports injuries. 
Article by Diane Kukich