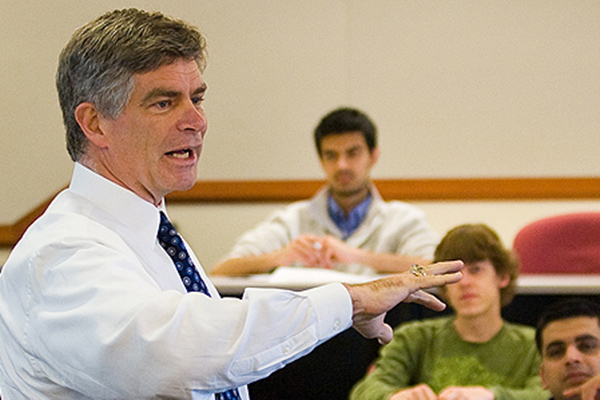 Lifetime achievement award
President Harker receives INFORMS Fellows Award
11:53 a.m., Oct. 17, 2012--University of Delaware President Patrick T. Harker has received the INFORMS Fellows Award in recognition of outstanding lifetime achievement in operations research and the management sciences. 
The award was presented Oct. 15 at the annual meeting of the Institute for Operations Research and the Management Sciences (INFORMS), the leading professional association for advanced analytics professionals. 
National Medal of Science
President Barack Obama recently presented the National Medal of Science to University of Delaware alumnus Rakesh Jain.
Warren Award
Rosalind Johnson, assistant dean for student success in the NUCLEUS Program in UD's College of Arts and Sciences, was presented the John Warren Excellence in Leadership and Service Award during a May 26 ceremony.
Harker was recognized "for remarkable leadership at the organizations he leads and for his contributions to the theory of variational inequalities and his editorial services to INFORMS."
"I'm honored to receive this award," said Harker. "I've been incredibly fortunate over my career to work with and learn from some of the most talented, most influential people in operations research, and I owe this recognition to their guidance and support."
The INFORMS Fellows Award brings together the best operations researchers and analytic experts throughout the world and recognizes outstanding achievement in five areas: 
• education in the field of operations research/management science;
• management of operations research/management science, including responsibility for applying the profession's techniques within an organization of any type;
• the practice of operations research/management science/analytics; 
• research; and
• service to INFORMS and the profession. 
In all, 12 awards were presented at the luncheon. 
About INFORMS
The Institute for Operations Research and the Management Sciences (INFORMS) is an international scientific society with 10,000 members, including Nobel laureates, dedicated to applying scientific methods to help improve decision-making, management and operations. 
Members of INFORMS work in business, government and academia, in such fields as airlines, health care, law enforcement, the military, financial engineering and telecommunications. 
INFORMS publishes a variety of journals that describe the latest research in operations research.