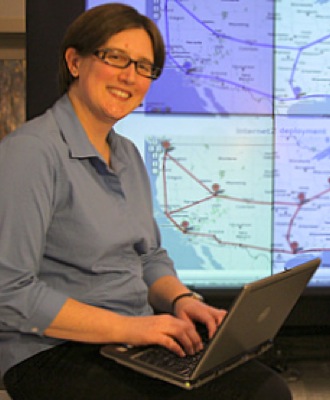 Oct. 19: CIS talk postponed
Rexford was to have discussed raising abstraction for programming OpenFlow Networks
(Editor's note: The talk by Jennifer Rexford has been postponed due to illness. Plans are to reschedule for spring 2013.)
3:27 p.m., Oct. 1, 2012--Princeton University's Jennifer Rexford, Gordon Y. S. Wu Professor of Engineering, will discuss designing OpenFlow networks to support multiple tasks such as routing, access control and traffic monitoring in an invited lecture Friday, Oct. 19, from 11 a.m. – 12:15 p.m. in 004 Kirkbride Lecture Hall on the University of Delaware campus in Newark.
Her talk is entitled "Frenetic: A Programming Language for Software Defined Networks" and focuses on abstractions that help programmers write concise, efficient OpenFlow programs. 
June 5: Blue Hen 5K
University of Delaware graduates planning to attend Alumni Weekend are encouraged to register for the annual Blue Hen 5K walk and run, which will be held Sunday morning, June 5.
June 6-9: Food and culture series
The 20th annual June Lecture Series at the Osher Lifelong Learning Institute at UD in Wilmington will be held June 6-9. Titled 'June a la Carte,' this year's program focuses on great political documents, feminism, world politics and a Newark cuisine sampler.
At Princeton, Rexford's research focuses on making data networks easier to design and manage by developing Internet routing, network measurement and network management processes. 
She earned her bachelor's degree in electrical engineering from Princeton University, and her master's and doctoral degrees in computer science and electrical engineering from the University of Michigan. She is the co-author of a book entitled, "Web Protocols and Practice: HTTP/1.1, Networking Protocols, Caching and Traffic Measurement."
She has served on the Association of Computer Machinery (ACM) Council and the Board of Directors of the Computing Research Association. She chaired the ACM Special Interest Group on Data Communication (SIGCOMM) from 2003 to 2007, and she is a 2004 recipient of the ACM Grace Murray Hopper Award for outstanding young computer professional.
This talk is part of the Distinguished Lecture Series co-sponsored by the Department of Computer and Information Sciences, the University of Delaware NSF-ADVANCE program and the President's Diversity Initiative. It is organized in part by the CISters (Women in Computer and Information Sciences) group and the Women in Engineering (WIE) program. 
Article by Megan Marschall