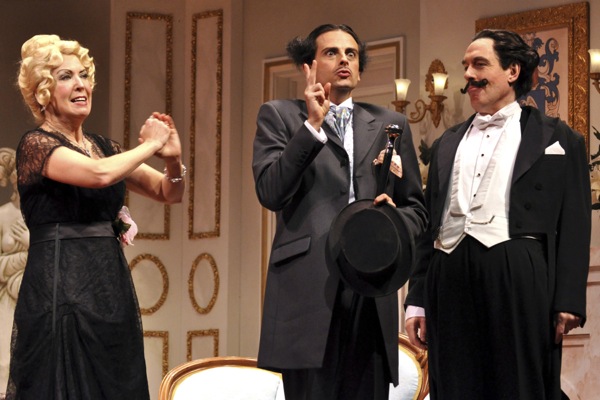 Nov. 17-Dec. 9: 'Anything to Declare?'
Resident Ensemble Players present French farce 'Anything to Declare?'
1:49 p.m., Nov. 12, 2012--Lively turn-of-the-century Paris will come to the University of Delaware's Roselle Center for the Arts when the Resident Ensemble Players (REP) presents the hilarious Anything to Declare?, a contemporary translation of Maurice Hennequin and Pierre Veber's French farce.
Take one bridegroom unable to fulfill his husbandly duties, add in two grandchild-demanding in-laws, throw in a jilted fiancé, an itinerant camel dealer and one very popular paintbrush-wielding courtesan, and you have the recipe for a madcap romp through 1912 France.
June 5: Blue Hen 5K
University of Delaware graduates planning to attend Alumni Weekend are encouraged to register for the annual Blue Hen 5K walk and run, which will be held Sunday morning, June 5.
June 6-9: Food and culture series
The 20th annual June Lecture Series at the Osher Lifelong Learning Institute at UD in Wilmington will be held June 6-9. Titled 'June a la Carte,' this year's program focuses on great political documents, feminism, world politics and a Newark cuisine sampler.
The bedroom farce, with its bawdy innuendo, absurd situations, and sparkling characterizations will have REP audiences laughing until the final curtain.
"If Anything to Declare? has one redeeming quality, it's laughter," says director Steve Tague. "The play is all about sex – but sex in a world of old-fashioned innocence where young women remain chaste until their wedding night and husbands would do anything – including a visit to a 'working girl' – to prove how much they love their wives.
"But in a French farce, of course, that innocence is wrapped in a wacky story of misplaced pants, mistaken identities, and a whirlwind of zany characters running in and out of lots of doors."
Performances will run from Saturday, Nov. 17 through Sunday, Dec. 9, with preview performances on Thursday, Nov. 15, and Friday, Nov. 16. Tickets are $21-$27, with discounts for students, seniors and UD faculty and staff.
Tickets can be purchased online, by calling the REP box office at 302-831-2204, or in person at the Roselle Center for the Arts, 110 Orchard Rd., Newark, Monday through Friday, from noon until 5 p.m.
The performance schedule for Anything to Declare? is as follows: Nov. 15, 16, 17, 28, 30, and Dec. 1, 6, 7, and 8 at 7:30 p.m.; Nov. 18 and Dec. 1, 2, 8, and 9 at 2 p.m.
Prior to the 2 p.m. performance on Saturday, Dec. 1, is the REP Prologue, a free and informal 20-minute presentation about the production, designed to enhance patrons' enjoyment and understanding of what they are about to experience. A talk-back with the cast will take place following the evening performance on Thursday, Nov. 29.
The Roselle Center for the Arts is located at 110 Orchard Road, on the corner of Orchard Road and Kent Way, in Newark. A convenient parking garage is attached to the center.
A complete schedule, directions, and information on purchasing tickets can be found at the REP's website or by calling the REP's box office at 302-831-2204.
Photo by Nadine Howatt