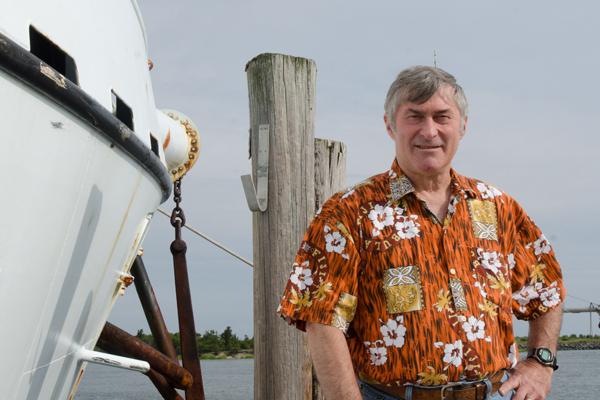 Luther honored
Marine scientist to receive 2013 Geochemistry Division Medal from ACS
2:11 p.m., Nov. 13, 2012--George W. Luther III, Maxwell P. and Mildred H. Harrington Professor of Oceanography at the University of Delaware, has been named the 2013 recipient of the Geochemistry Division Medal from the American Chemical Society (ACS) for his wide-ranging contributions to aqueous geochemistry.
The distinction is the highest honor awarded by the society's geochemistry division, given every other year to recognize outstanding achievements in the field. Geochemistry examines the chemical reactions behind geological processes occurring in the earth and oceans.
National Medal of Science
President Barack Obama recently presented the National Medal of Science to University of Delaware alumnus Rakesh Jain.
Warren Award
Rosalind Johnson, assistant dean for student success in the NUCLEUS Program in UD's College of Arts and Sciences, was presented the John Warren Excellence in Leadership and Service Award during a May 26 ceremony.
Luther's accomplishments include applying physical inorganic chemistry to the transfer of electrons between chemical compounds in the environment. He developed chemical sensors and incorporated voltammetry, an analytical method of measuring electrical activity, in quantifying the presence of elements and their chemical compounds in natural waters.
In addition, Luther is acknowledged for his understanding of chemical and microbial processes involved in the cycling of sulfur and metals.
"His impact on the field of aqueous geochemistry has been felt through numerous, widely cited publications; lectures and other presentations at scientific meetings; visiting lectureships and appointments at international universities; and leadership in global frontiers of aqueous and marine chemistry," the ACS citation states.
Luther joined the UD's College of Earth, Ocean, and Environment (CEOE) in 1986 and has joint appointments in the departments of Chemistry and Biochemistry, Civil and Environmental Engineering, and Plant and Soil Sciences.
He previously taught at Kean College of New Jersey after earning his bachelor's degree in chemistry from La Salle College in 1968 and his doctorate in physical-inorganic chemistry from the University of Pittsburgh in 1972. Luther has been a distinguished visiting fellow at University of Cardiff in Wales since 1996.
Among his professional accomplishments are receipt of the Geochemical Society's Clair C. Patterson Award and UD's highest faculty honor, the Francis Alison Award. He was named a fellow of the American Association for the Advancement of Science in 2011 and the American Geophysical Union in 2012.
Luther has traveled widely to conduct field research in a variety of settings, from Yellowstone National Park to the Black Sea. Most recently, he returned from an expedition to the Mid-Atlantic Ridge to study nanoscale pyrite released through hydrothermal vents.
"As a chemist at heart, George offers valuable perspective in unraveling the complex dynamics in ocean environments," CEOE Dean Nancy Targett said. "Time and time again, he has proven to be an innovator, leader and collaborator most worthy of this recognition from the ACS."
Luther will be presented with the medal at a special Geochemistry Division awards symposium at the ACS National Meeting in New Orleans in April. A series of invited lectures highlighting issues in aqueous biogeochemistry will follow in honor of Luther's contributions.
Article by Teresa Messmore
Photo by Danielle Quigley