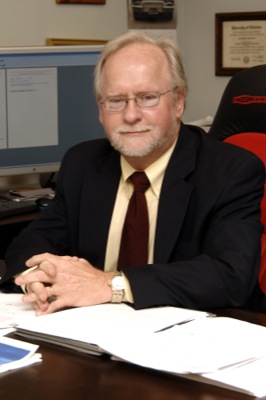 Composites leader honored
UD's Gillespie named American Society for Composites Fellow
8:57 a.m., Nov. 1, 2012--John W. Gillespie, Jr., director of the University of Delaware Center for Composite Materials, has been named an American Society for Composites (ASC) Fellow.
ASC Fellows are distinguished members who have made "genuinely outstanding contributions to the composites community through research, practice, education, and/or service."
National Medal of Science
President Barack Obama recently presented the National Medal of Science to University of Delaware alumnus Rakesh Jain.
Warren Award
Rosalind Johnson, assistant dean for student success in the NUCLEUS Program in UD's College of Arts and Sciences, was presented the John Warren Excellence in Leadership and Service Award during a May 26 ceremony.
Gillespie, who is the Donald C. Phillips Professor of Civil and Environmental Engineering with a joint appointment in materials science and engineering, has actively supported ASC since the Society's founding in 1986, including co-authoring 91 conference papers with members of his research group.
From 1990 to 1997, he served as a member of the ASC executive committee. In 2009, he was co-chair of the 24th Technical Conference and the First Joint U.S.-Canadian Conference, which was held at UD.
He received ASC's Outstanding Research Award in 2009 and the society's best paper award at the 25th Technical Conference in 2010.
In achieving ASC Fellow status, Gillespie joins 42 other internationally recognized experts in the composites field from academia, industry and government laboratories.
About John W. Gillespie, Jr.
Gillespie earned his doctorate in mechanical and aerospace engineering at UD. He joined CCM in 1981 and was named director in 1996.
He is the principal investigator of two Army Research Laboratory (ARL) centers of excellence at UD, one in multifunctional composite materials and the other in mechanics and performance of composites. He is also the UD principal investigator and a member of the consortium management committee of an ARL Collaborative Research Alliance focused on materials in extreme dynamic environments, which was awarded to a team comprising Johns Hopkins University, Rutgers University and California Institute of Technology.
In addition, Gillespie is co-principal investigator of a fourth center of excellence focused on advanced materials and intelligent processing funded by the Office of Naval Research.
Gillespie has authored or co-authored more than 750 publications in composites science and technology including 13 books and book chapters, 15 patents, and more than 250 refereed journal papers, 400 proceedings papers, and more than 100 technical reports.
About the American Society for Composites
The American Society for Composites provides a communication forum for the engineering and scientific community in composite materials; expedites the growth of knowledge gained from interdisciplinary engineering and scientific research in composite materials; and promotes the exploitation of the unique properties of composite materials in emerging applications.
About ASC Fellows
ASC Fellows are selected on the basis of outstanding contributions to the advancement of the composites community through one or several of the following activities: research and development to advance the state-of-the-art in composites science and technology; application and practice to promote unique and broader application of composites; education and technology transfer to disseminate knowledge of composites; and service with demonstrated leadership for the profession.
Article by Diane Kukich
Photo by Kathy F. Atkinson