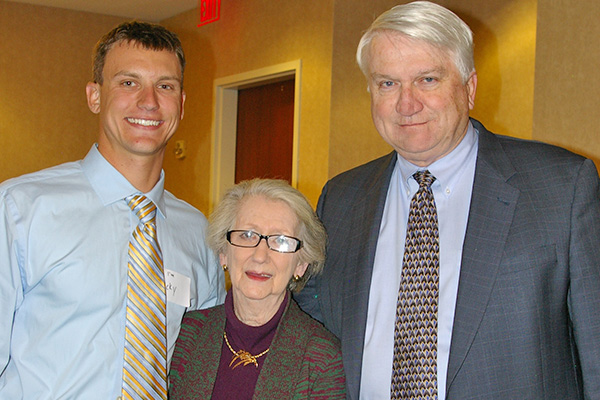 DNP's top vol
Downtown Newark Partnership names UD's Sullivan volunteer of year
12:19 p.m., Nov. 13, 2012--William Sullivan, managing director of Marriott's Courtyard Newark at the University of Delaware, has been named the Downtown Newark Partnership's (DNP) Volunteer of the Year.
The award was presented by Marilyn Minster, chair of the DNP's board of directors, during the organization's annual volunteer and awards event, held Thursday, Nov. 8, at the campus hotel. 
National Medal of Science
President Barack Obama recently presented the National Medal of Science to University of Delaware alumnus Rakesh Jain.
Warren Award
Rosalind Johnson, assistant dean for student success in the NUCLEUS Program in UD's College of Arts and Sciences, was presented the John Warren Excellence in Leadership and Service Award during a May 26 ceremony.
"We were proud to make Bill Sullivan our volunteer of the year," Minster said. "He has done so much for the DNP, and he always does more than is asked of him."
Minster noted that Sullivan also serves as a board member and photographer for the DNP, a private/public partnership dedicated to the aesthetic, economic, cultural and social enhancement of downtown Newark. The University is a member of the partnership.
"Bill went with us to Des Moines, Iowa, in 2011, when we received the National Trust Main Street Center's Great American Main Street Award," Minster said. "He is so willing to give of himself and he is really a great person."
Newark Mayor Vance A. Funk, III, also lauded Sullivan's contributions to the city of Newark and the Downtown Newark Partnership.
"Bill is an incredible person," Funk said. "He has done more for the city than any individual that I can think of." 
For Sullivan, a 1974 UD business administration alumnus who teaches in the Department of Hotel, Restaurant and Institutional Management in the Alfred Lerner College of Business and Economics, volunteering is an extension of the campus hotel's role in training future hospitality leaders.
"The DNP is a joint effort of the city of Newark, the business community and UD to really improve the business and cultural conditions in the community," Sullivan said. "The DNP is a unique group that is helping to build a quality of life and attract people to downtown Newark."
Sullivan said that receiving the award for helping with various activities, including the Taste of Newark, the Newark Mile and other fund raising events, was nice but unexpected. 
"It was great receiving the award and I was also pleasantly surprised," Sullivan said. "My wife knew about it, but it was kept a strict secret from me until the actual event." 
For more information on the Downtown Newark Partnership, visit the organization's website.