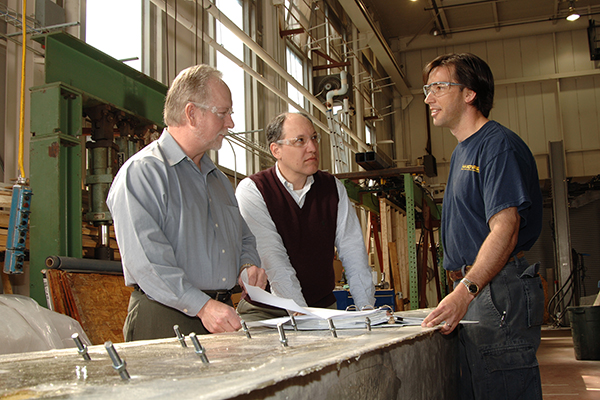 Bridging the gap
Composites team recognized for innovative technology
10:18 a.m., Nov. 12, 2012--The Hybrid Composite Beam (HCB) sounds almost too good to be true — it's lightweight, strong, corrosion resistant, simple to fabricate, and inexpensive to transport and erect. But thanks to a collaboration between the inventor and a team of researchers at the University of Delaware Center for Composite Materials (CCM), hundreds of cars, trucks, and trains are traveling over bridges made with these novel beams every day.
The university-industry-government team that collaborated on the project was recently chosen to receive the 2013 Charles Pankow Award for Innovation from the American Society of Civil Engineers.  The selection committee was "most impressed that HCB offers an important development in structural members for a broad array of uses."
National Medal of Science
President Barack Obama recently presented the National Medal of Science to University of Delaware alumnus Rakesh Jain.
Warren Award
Rosalind Johnson, assistant dean for student success in the NUCLEUS Program in UD's College of Arts and Sciences, was presented the John Warren Excellence in Leadership and Service Award during a May 26 ceremony.
Along with HCB inventor John Hillman, the team includes three UD members: CCM director Jack Gillespie, bridge engineer Dennis Mertz, and CCM associate scientist Nick Shevchenko. The center's expertise in composites manufacturing, Mertz's experience in bridge design, and the Department of Civil and Environmental Engineering's large-scale testing capabilities turned out to be the combination needed to take the beam from concept to construction.
The HCB comprises a fiber-reinforced polymer shell with concrete for compression reinforcement and carbon, glass, or steel fibers for tension reinforcement. Because the shells are transported empty and the concrete is pumped in on site, as many as eight beams can be shipped on a truck that can carry only one precast concrete beam. Another advantage is that the composite exterior significantly extends the service life of HCBs beyond that of beams made with traditional concrete or steel — they're expected to last 100 years or more.
"The Pankow Award is especially meaningful because it recognizes the collaboration that's necessary to bring a new technology to fruition and commercialize it," Hillman says. "Awards are usually given to individuals, and what gets lost are all of the others who contributed to the success."
"I knew that Delaware was the only university that had strong capabilities in bridge engineering and every facet of composites characterization, design, analysis, and manufacturing," he adds.
The partnership was a success. In November 2007, more than a decade after the idea for the hybrid beam was conceived, a full-size Norfolk Southern Locomotive pulled 26 loaded coal cars across an HCB bridge at the Federal Railroad Administration's Facility for Accelerated Service Testing near Pueblo, Colo. A little less than a year later, the first highway application of the technology was implemented on a bridge in Lockport, Ill. Since then, HCB bridges have been installed in eight other states, from Maine to Utah.
"We launched our initiative to use advanced composites for infrastructure applications in the early 1990s," says Gillespie. "The challenge has always been to exploit the advantages of these materials — their light weight, strength, and corrosion resistance — while containing costs and automating fabrication."
CCM's work in this area was part of a major national initiative launched at that time to marry bridge engineering and composites technology.  With funding from the state of Delaware and several federal agencies, the UD team worked on bridges across the nation in the late 1990s. 
The work culminated in the design, manufacture, and installation of an all-composite deck on a one-way bridge on Business Route 896 in Glasgow, Del., which was opened to traffic on Nov. 20, 1998. One of the first state-owned bridges in the country, the bridge was selected as the Project of the Year by the Delaware Section of ASCE in 1999. 
"The key to using composites in infrastructure applications is finding ways to exploit the inherent benefits of each material in a way that optimizes the overall performance of the combination of materials," Gillespie says. "The HCB does exactly that, and I'm glad we had the opportunity to contribute to making it a success. Technologies like this can pave the way for broadening the use of advanced composites in highway and railroad bridges as well as marine structures."
Mertz agrees. "More than a quarter of the bridges in the U.S. are either structurally deficient or functionally obsolete," he says. "The Hybrid Composite Beam is an innovative alternative for rebuilding our nation's infrastructure with state-of-the-art sustainable structures."
The team will be honored at the Outstanding Projects and Leaders Gala on March 21, 2013, in Arlington, Va. In winning the Pankow Award, they join a diverse group of teams that have included engineering design firms, research institutes, state departments of transportation, the Federal Highway Administration, public utilities, and universities across the U.S. 
About the Charles Pankow Award for Innovation
The Pankow Award for Innovation was established in 1996 to complement existing industry awards. Named for industry visionary Charles J. Pankow, the award recognizes organizations working collaboratively to bring innovative civil engineering ideas into practice. 
About the UD team
Dennis Mertz is a professor in the Department of Civil and Environmental Engineering. Mertz, who earned his doctorate at Lehigh University, specializes in bridge engineering, including bridge fatigue and fracture, bridge design and methods for rating bridges. He is the founding editor of the ASCE Journal of Bridge Engineering and was a primary author of the first set of reliability-based bridge design specifications issued by the American Association of State Highway and Transportation Officials.
Jack Gillespie is director of the Center for Composite Materials and Donald C. Phillips Professor of Civil and Environmental Engineering. He holds a joint faculty appointment in the Department of Materials Science and Engineering. Gillespie earned his doctorate in mechanical and aerospace engineering at the University of Delaware and conducts research in a broad range of composites-related areas, including manufacturing, design, modeling, simulation, durability, joining and repair.
Nick Shevchenko is an associate scientist at CCM. He earned his doctorate in physics at the University of Delaware. Shevchenko's research interests include induction-based processing of composites and the application of composite materials to armored vehicle design.
Article by Diane Kukich
Photo by Kathy F. Atkinson