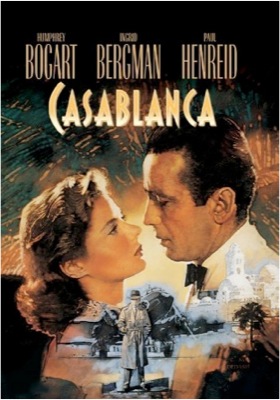 Through Dec. 14: Here's looking at you
University of Delaware Library exhibition features beloved film 'Casablanca'
3:37 p.m., Nov. 15, 2012--The University of Delaware Library has announced an exhibition in place through Dec. 14 commemorating the 70th anniversary of the motion picture Casablanca.
The exhibition has been mounted in a display case outside the Film and Video Collection Department on the lower level of the Morris Library.
June 5: Blue Hen 5K
University of Delaware graduates planning to attend Alumni Weekend are encouraged to register for the annual Blue Hen 5K walk and run, which will be held Sunday morning, June 5.
June 6-9: Food and culture series
The 20th annual June Lecture Series at the Osher Lifelong Learning Institute at UD in Wilmington will be held June 6-9. Titled 'June a la Carte,' this year's program focuses on great political documents, feminism, world politics and a Newark cuisine sampler.
On Nov. 26, 1942, Casablanca premiered in New York City just weeks after Operation Torch, the U.S. led Allied invasion of North Africa and the capture of Casablanca, Morocco from Vichy French forces.
Casablanca is one of America's most beloved films whose themes of love, courage and sacrifice in wartime continue to resonate with audiences. The film starred Humphrey Bogart, Ingrid Bergman, Paul Henreid and Claude Rains and received Academy Awards for Best Picture, Best Director (Michael Curtiz) and Best Screenplay.
The exhibition consists of publicity stills, the film script, a senitype photo reproduced from a single 35 millimeter frame of restored film footage, facsimile letters from Warner Brothers studio executives concerning the making of the film, and a copy of a "Letter of Transit" film prop. The exhibition also includes lobby cards, Casablanca memorabilia from the 70th anniversary DVD release and Moroccan artifacts.
The Casablanca exhibition was curated by Francis Poole, head, Film and Video Collection Department, and Valerie Jones, library assistant III, of the Film and Video Collection Department, with the assistance of Laurie Rizzo, assistant librarian of the Special Collections Department.