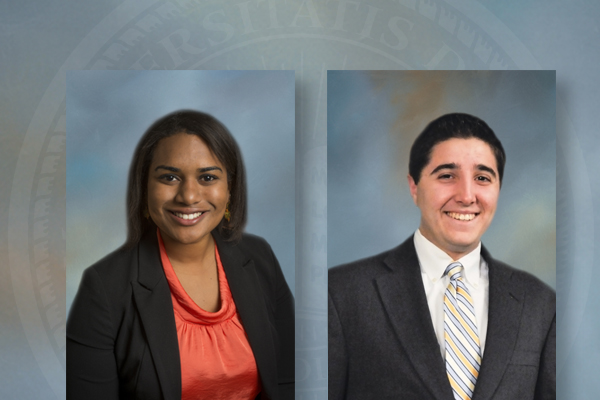 Top seniors
Seniors Kramer and Allen recognized with UDAA's Taylor, Warner awards
4:20 p.m., May 8, 2013--University of Delaware seniors Max Logan Kramer and Melanie Allen have been selected as the recipients of the Alexander J. Taylor Sr. and Emalea Pusey Warner awards, respectively, as the outstanding man and woman of the 2013 graduating class.
The awards are given annually by the UD Alumni Association to recognize the senior man and woman who most exemplify leadership, academic success and community service.
National Medal of Science
President Barack Obama recently presented the National Medal of Science to University of Delaware alumnus Rakesh Jain.
Warren Award
Rosalind Johnson, assistant dean for student success in the NUCLEUS Program in UD's College of Arts and Sciences, was presented the John Warren Excellence in Leadership and Service Award during a May 26 ceremony.
Melanie Allen
Warner Award recipient Melanie Allen, of Uniondale, N.Y., is an Honors Program student and double major in wildlife conservation and agriculture and natural resources, with a minor in public policy.
Her areas of academic interest include ecology, conservation biology, wildlife management, community-based conservation and environmental policy.
Allen, who maintains a 3.64 grade point average (GPA), has received more than half a dozen academic awards and distinctions, including Dean's List, Honors Enrichment Award, U.S. Forest Service Sustainability Fellowship and the African American Student of Distinction.
A member of the Alpha Lambda Delta honor society, Allen has studied abroad in Costa Rica and Ghana, leading community service projects and presenting research findings in those countries, and soon plans to travel to Brazil.
A budding leader in sustainability and conservation, Allen has held many volunteer and leadership roles, including serving as a volunteer for the Center for Environmental Impact Analysis in Ghana.
She has been a leader in UD's Alternative Spring Break program, in which she led two groups in trail restoration and maintenance in South Carolina and Tennessee, and as a representative for the Green Liaison Committee of the UD Sustainability Task Force. She also was a volunteer intern at the Wildlife Hospital at Caumsett State Historic Park in Lloyd Harbor, N.Y.
Allen also served as an Honors Program Writing Fellow and as an Ag Ambassador for the College of Agriculture and Natural Resources.
Kristin Bennighoff, associate director of the UD Honors Program who nominated Allen, wrote, "Just as Mrs. Warner was a leader in education for women at the University of Delaware … Melanie has been a leader utilizing service and research to provide educational outreach both here in the United States and abroad."
Raymond I. Peters III, coordinator of the Writing Fellows Program, said Allen is a "highly motivated young woman who has already made a difference at the University of Delaware."
Max Logan Kramer
Taylor Award recipient Max Kramer of Oceanside, N.Y., will graduate with bachelor of arts degrees with honors from the College of Arts and Sciences and the Alfred Lerner College of Business and Economics. His majors include political science and economics, and his minors include legal studies and political communication. He is a Dean's List student with a GPA of 3.9.
Kramer has focused his extracurricular activities on political activism, mentoring, legislation and community service.
Most recently, he worked as a political aide for District Attorney Kathleen Rice in Carle Place, N.Y. Prior to that, he was a peer mentor for the Middle Eastern Partnership Initiative (MEPI), a legislative aide for New York Assemblyman Charles Lavine, a teaching assistant for the National and Global Agenda in Newark, Del., a field organizer for the Committee to Elect Darlene Tangney (Oceanside, N.Y., office), and an intern for U.S. Rep. Carolyn McCarthy in Garden City, N.Y.
While working for Lavine, Kramer went above and beyond the duties of an aide to work first-hand on bills concerning cyber-bullying, safer gun laws and online voter registration.
"Max functioned in a way that is atypical of an undergraduate student," said Lavine in his recommendation letter. "He operated in a way such that he could have been compared to a full-time staff member during his time in my office. Max came in every day ready to get down to business for our constituents. As such, he was tasked with responsibilities unlike those given to other undergraduates who have worked in my office."
Throughout his college career, Kramer has been active in many campus activities and organizations as a Foreign Affairs Campus Coordinator and as the secretary-general and later president of the University of Delaware Model United Nations.
Kramer was the recipient of the UD Gladys and Harry David Zutz Award for Excellence in Academics and Commitment to Public Service, and the UD Hutchinson Scholars Panel for Excellence in Academics and Commitment to Economics.
Katherine C. Kerrane, senior associate director of the Honors Program, said Kramer "will make a positive contribution to society," noting that "he works hard, takes initiative and is dedicated to public service."
She cited Kramer's contributions in an honors Global Agenda class in which UD students interacted with students in Dubai, noting that he "demonstrated outstanding leadership" and that "through his genuine interest in Arab culture and in the students as individuals, he became an ambassador of American culture and values."
His work in UD's Model UN chapter, which hosted nearly 500 visiting high school students from across the East Coast earlier this year, served as an example of his leadership and operational strategy, Kerrane said, explaining that "he first established a strong foundation at the grassroots level, and then uses that to expand his vision, leading to a significant effect on others' lives at a national and international level."
About the awards
Alexander J. Taylor Sr. (1875-1940) entered Delaware College in 1889 and graduated in 1893 as class valedictorian, with a baccalaureate degree in civil engineering. Mr. Taylor was elected to the Board of Trustees in 1927, reelected in 1932 and again in 1938. He served on the Grounds and Buildings Committee and Executive Committee and was chairman of the Finance Committee.
Emalea Pusey Warner (1853-1948) is best remembered on the University of Delaware campus as a champion of education. In 1911, she became chairperson of the State Federation of Women's Clubs' Committee on Education and worked diligently toward the specific goal of establishing a state-supported women's college. In 1914, she was appointed chairperson of the Advisory Council of the Women's College and later became the first woman member of the Delaware College Board of Trustees. Both Warner Hall on the UD campus and Warner Elementary School in Wilmington are named in her honor.
The Warner Award was first given in 1950, while the Taylor award debuted in 1968. Recipients are recognized with a $2,500 scholarship, are honored at a luncheon and lead the alumni delegates procession at Commencement.