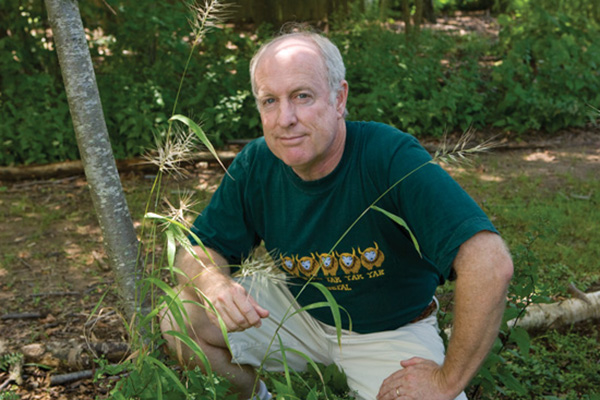 Margaret Douglas Medal
Tallamy receives Garden Club of America honor for conservation education
12:41 p.m., May 17, 2013--Doug Tallamy, chair of the University of Delaware's Department of Entomology and Wildlife Ecology, was recently awarded with the Garden Club of America's Margaret Douglas Medal for notable service to the cause of conservation education.
Tallamy, a proponent of the use of native plants in gardening, received the medal during an award reception held earlier this month in Philadelphia.
National Medal of Science
President Barack Obama recently presented the National Medal of Science to University of Delaware alumnus Rakesh Jain.
Warren Award
Rosalind Johnson, assistant dean for student success in the NUCLEUS Program in UD's College of Arts and Sciences, was presented the John Warren Excellence in Leadership and Service Award during a May 26 ceremony.
Of the award, Tallamy said, "It's great because it shows that the Garden Club of America is recognizing a completely new way to look at your garden. They have embraced it, and I'm very pleased about that." 
While Tallamy is thrilled with the medal, he said he is even more excited about what the recognition could potentially mean for biodiversity in suburbia and home gardens.
"It's not about me, it's about the message," he said, "so what I appreciate is that they're recognizing the message."
The message, according to Tallamy, is that "your garden has many functions in addition to looking nice. Your garden performs critical ecological roles."
Tallamy said he understands that thinking of gardens as part of the local ecosystem instead of just as decorations is not yet mainstream but, as the award demonstrates, it is starting to get people's attention.
"You can make a beautiful garden that also supports local food webs, sequesters carbon, improves your watershed and helps pollinator populations all by yourself if you choose productive plants," he said. "And your contribution to local ecosystem function plays an important role in sustaining this planet." 
Tallamy was nominated by Beverley Rowland, a Wilmington resident and a member of the Garden Club of America, as well as a supporter of the University of Delaware Botanic Gardens. 
About the award
The Garden Club of America's Margaret Douglas Medal is awarded for notable service to the cause of conservation education.
The medal was designed by art deco sculptor Rene P. Chambellan in 1952. It was presented and endowed by Mrs. Robert. D. Sterling, Garden Club of Dublin and Monadnock Garden Club, N.H., to honor Mrs. Walter Douglas, a member-at-large.
Photo by Ambre Alexander