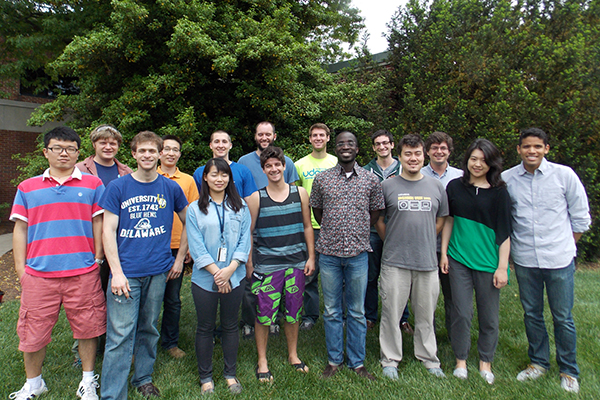 SAMPE honors
UD students have strong presence at international materials conference
9:40 a.m., May 28, 2013--Two University of Delaware doctoral students won grand prizes for their presentations at the recent Society for Materials and Process Engineering (SAMPE) international symposium and exhibition in Long Beach, Calif.
Qi An and Jennifer Mueller, both doctoral candidates in materials science and engineering and affiliated with the Center for Composite Materials, will move on to present their work at international SAMPE conferences in Europe and Japan, respectively.
National Medal of Science
President Barack Obama recently presented the National Medal of Science to University of Delaware alumnus Rakesh Jain.
Warren Award
Rosalind Johnson, assistant dean for student success in the NUCLEUS Program in UD's College of Arts and Sciences, was presented the John Warren Excellence in Leadership and Service Award during a May 26 ceremony.
"The students go through a rigorous process to reach this point," says CCM director John W. Gillespie Jr., who also serves as faculty adviser to the SAMPE Student Chapter at UD. "They first present at the regional student competition, which is hosted by the SAMPE-Baltimore chapter. The winners there are awarded a free trip to the national meeting, where they compete against all other regional winners across the nation. Finally, the national winners are sponsored to present at the international conferences in Europe and Japan."
Mueller, who is co-advised by Gillespie and professor Suresh Advani, took first place and will present her talk, "Diffusion as a Bonding Mechanism for Ultrasonically Consolidated Metal Matrix Composites," in Nagoya this November. 
An, who is advised by Erik Thostenson, assistant professor, was the second-place winner and will present "Carbon Nanotube Reinforced Fiber/Epoxy Multi-scale Hybrid Composites via Electrophoretic Deposition: Multifunctional Properties, Processing, Characterization and Modeling" in Paris, in 2014. 
In addition to the doctoral winners, Christine Gregg, a senior in mechanical engineering, tied for first place in the undergraduate category, and a team from CCM placed second out of 17 teams in the bridge competition. 
"This is UD's best showing ever, with success in both the academic and application-oriented aspects of the student competitions," says Maxime Dempah, president of the SAMPE-UD student chapter.
A team of 13 students collaborated to submit five entries to the bridge competition. In addition to their second-place overall finish, they received the following top division awards:
1st place: Natural Fiber Square Beam;
1st place: Natural Fiber I-Beam;
2nd place: Glass Fiber I-Beam; and
3rd place: Glass Fiber Box Beam
"We received tremendous support from CCM faculty and staff, the College of Engineering, and SAMPE," Dempah says. "We also have access to a wide range of state-of-the-art equipment and materials here at the center. It's a great environment for carrying out these kinds of projects, and we continue to pass along what we've learned to the next generation of students through SAMPE."
About SAMPE-UD
SAMPE-UD provides a venue for students in the materials and processing related fields to exchange ideas and interact with the professional sector. Current SAMPE-UD members include graduate as well undergraduate students from the departments of Civil and Environmental Engineering, Materials Science and Engineering, Mechanical Engineering, Chemical and Biomolecular Engineering, and Chemistry and Biochemistry, with most graduate students affiliated with the Center for Composite Materials.
The group is also a leader in outreach, hosting programs that help to educate over 200 people per year, ranging from middle school students to adult community members. SAMPE-UD typically assists in running two to four engineering outreach programs each year. Along with outreach programs, SAMPE sponsors hands-on experience introducing students to composites manufacturing, providing them with a valuable skill set for careers. This is coupled with networking events, tours, seminars, technical talks and leadership opportunities.
The UD-SAMPE bridge team included Maxime Dempah (master's, materials science and engineering), Chad Phillips (master's, mechanical engineering), Alex Vanarelli (master's, mechanical engineering), Jeffrey Lugo (master's, mechanical engineering), Gerard Gallo(master's, mechanical engineering), John Gangloff (Ph.D., mechanical engineering), Hao Liu ( Ph.D., mechanical engineering ), Hong Yu (Ph.D., mechanical engineering), Zach Melrose (Ph.D., mechanical engineering), Phillip Mirabella (bachelor's, mechanical engineering), Adrian Sawyer (bachelor's, mechanical engineering), Raymond McCauley (master's, mechanical engineering) and Michael Yeager (master's, mechanical engineering).
About CCM
Founded in 1974, CCM conducts basic and applied research, educates scientists and engineers, and develops and transitions technology. Since 1985, CCM has been designated a center of excellence through seven programs. The center has some 250 affiliated personnel, more than $12 million in annual expenditures, and over 2,000 alumni worldwide. More than 3500 companies have benefited from affiliation with CCM over the past three decades.
About SAMPE
SAMPE, an international professional member society, provides information on new materials and processing technologies through chapter technical presentations, two journal publications, symposia and commercial expositions in which professionals can exchange ideas and air their views. As the only technical society encompassing all fields of endeavor in materials and processes, SAMPE provides a unique and valuable forum for scientists, engineers, designers
and academicians.
Article by Diane Kukich